/?php include(TEMPLATEPATH."/breadcrumb.php");?> /?php if(function_exists('wp_print')) { print_link(); } ?>
When life hands you rutabagas…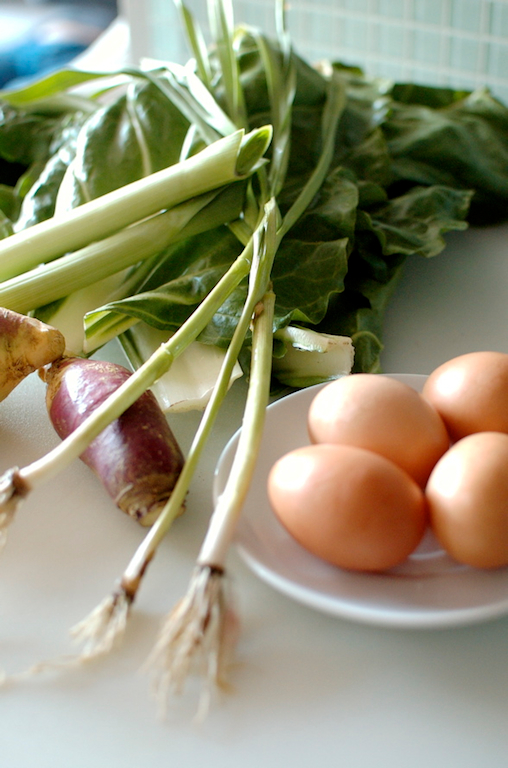 So I picked up my Community Supported Agriculture mystery box of veggies this week, and I thought I'd show you how I approach cooking my way through the contents.  Why not start with some chard and rutabagas?  Now, I know–who doesn't have a dozen "go-to" rutabaga recipes in their repertoire already, right?
Well just in case you don't, here's one suggestion.
I took a couple of large spring onions and a few stalks of green garlic–the young shoots that appear at this time of year.  Ramps or calcots are similar alliums (a.k.a. plants in the onion family) that would also work well.  Or just try your everyday onion or shallots.  Saute them up in a little olive oil, along with some chili flakes or a sliced chile pepper if you're feeling spicy.
Wash and stack your chard leaves, then roll them up to chiffonade into 1/2 inch slices.  Add them to the saute pan with a little salt, pepper, and some water or stock to start a little steam.
Meanwhile, make ribbons from your rutabaga.  Just peel and discard the outer skin, then continue peeling the whole vegetable into a pile of ribbon-like wisps.  In a second pan, saute your rutabaga ribbons with a little butter or oil and a sprinkling of curry powder.  Let them brown a bit around the edges, stirring occasionally.  Once lightly browned, add 1T cider vinegar, cover, and turn off the heat.
Slowly scramble a few eggs.  Low heat, constant stirring and patience are the keys to good scrambled eggs.  Once they begin to set but before they are dry, turn off the heat and just stir them until your desired doneness–but I implore you to keep them a little soft and moist!
And there you have it.  A wholly satisfying brunch, casual supper or lunch dish–round it out with some crusty bread, a glass of wine, and maybe a little cheese?  Simple yet completely satisfying–and you've tackled the rutabagas until next week's veggies arrive.  Well done!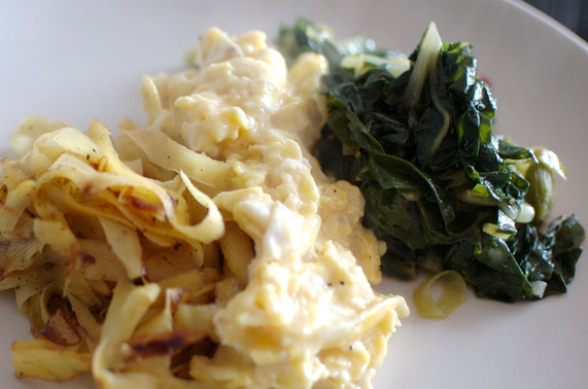 Print This Post