/?php include(TEMPLATEPATH."/breadcrumb.php");?> /?php if(function_exists('wp_print')) { print_link(); } ?>
Walnut Butter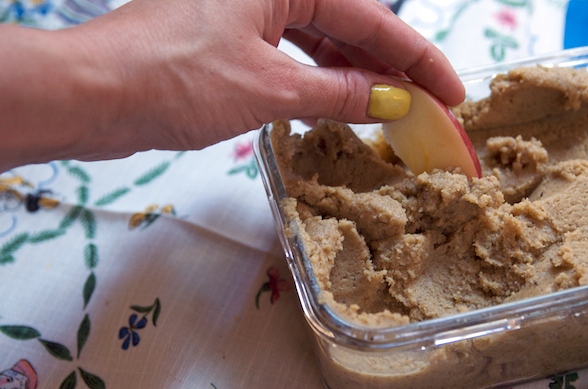 There are many reasons to love walnut butter:  it's an interesting alternative to ubiquitous peanut butter, it's rich with Omega-3s, and it's incredibly versatile.  You're already sold, right? There's an even better reason to love walnut butter: it tastes kinda like cookie dough.  Really.

I discovered walnut butter by accident when I was visiting the San Francisco area a few years ago. I'd invited my friends for a little reunion to the rental home where we were staying.  I wanted to make a few nibbles as a gesture of hospitality.

I went in to the nearest grocery and tried to concoct two dishes that were simple but elegant.  It's always a bit exhausting to cook in an unfamiliar kitchen so, admittedly, I reached for the predictable- a baguette and some cheese.  "No, I can be a bit more creative than this," I thought.   "Okay, some thin apple slices would add some interest.  But that still isn't enough."  I needed something to anchor the flavors.  What goes well with apples and cheese?  Walnuts came to mind.  But I couldn't just perch a doggone walnut on top.  No, but I could smoosh 'em up!

Thus was born my love affair with walnut butter.  It's been in constant supply in my kitchen ever since.  I'll take a walnut butter sandwich with strawberry jam any day over peanut butter.  Even better, walnut butter with cherry preserves, or blueberry, or fig… I love to dip apples in it.  And if you invite me to your book club and ask me to bring an appetizer, there's a very good chance I'll bring that same recipe I came up with in San Francisco.

Walnuts are very tannic.  Tannins are compounds found in high concentrations in red wine (they're found in grape skins, which is why they're only noticeable in red wine).  Tannins sort of coat your mouth and make you pucker.  They're also a bit bitter.  A little sugar does a great job of cutting the effect of those tannins.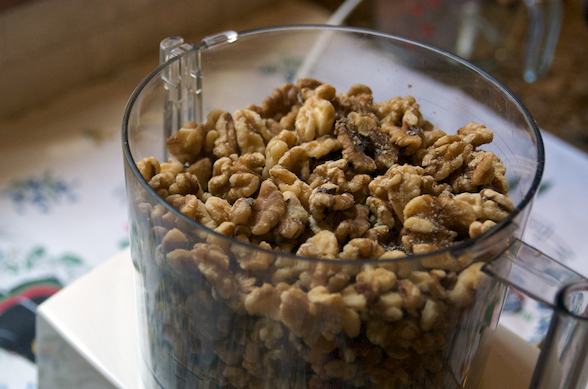 Ingredients
6 cups raw, shelled walnuts
1 tablespoon sugar, or to taste
2 teaspoons kosher salt, or to taste
Instructions
Place walnuts in food processor.  Turn the food processor on and process until soft and "buttery."  This takes about three minutes.
Add sugar and salt.  Process to integrate.
Taste and adjust sugar and salt as needed.
Store in refrigerator.
Off Script…
You can do this in a blender but it will take closer to 10 minutes.  You'll have to keep scraping down the sides.  Don't try this with a mini-food processor.  You'll kill the motor.

Print This Post