/?php include(TEMPLATEPATH."/breadcrumb.php");?> /?php if(function_exists('wp_print')) { print_link(); } ?>
Vadouvan Grilled Shrimp with Fava Bean Succotash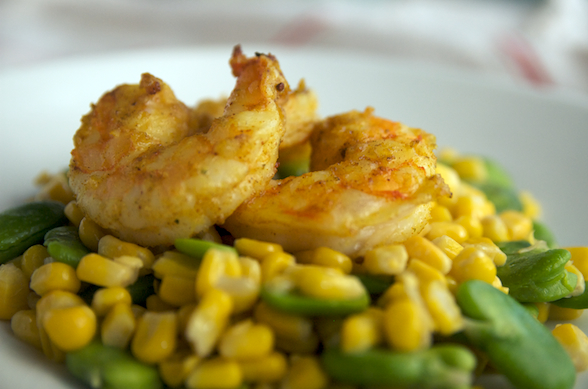 It's time for more fun with favas!  This dish is throw-your-head-back-and-moan good.  You'll be bewitched by the way that the complex spice blend, smoky grilled flavors and sweet succotash come together so perfectly.  Best of all, you will love that this dish is so simple to prepare and execute.

This is not the awful frozen lima bean succotash of your childhood.  Succotash is just a combination of corn and beans.  Hundreds of years ago, meso-Americans figured out this combination had particular nutritional significance.  The combination of corn and beans has the amino acids necessary to create a complete protein.  Cool, eh?

So what the heck is vadouvan?  It's a curry blend with a European sensibility.  It is uber-trendy, but is relevant beyond the fashion.  It's basically a curry powder that contains a dehydrated and ground combination of onions, shallots and garlic.  Tasting very much like the curry blend that it is, it nonetheless has a depth not found in the standard curry blend.

You can probably track vadouvan down at your local gourmet shop or spice merchant.  You can also pick it up online.  I got mine from the Spice House.  You can also make it at home with a minimum of fuss.  Easier still, you can approximate it.  Just use a good quality curry powder in the oil mixture and add a garlic clove and small minced shallot.
Ingredients
For the shrimp
20 medium/large thawed shrimp, preferably wild-caught
For the vadouvan oil
1 teaspoon kosher salt
1 tablespoon vadouvan
2 tablespoons extra-virgin olive oil
For the succotash
2 tablespoons butter
3-4 cups frozen corn kernels (about 1 pound)
3-4 cups hulled fava beans
Instructions

Marinate the shrimp
Light your grill.
Drain and pat dry the shrimp.  I actually give mine a whirl in my salad spinner.
Toss with the vadouvan oil to coat.
Make the succotash
In a large skillet, melt the butter.
Add the frozen corn and fava beans.  Cook just until warmed through.  Fava beans lose their chartreuse color and characteristic flavor when over cooked.  They become dark green, mushy and slightly gritty.  You really need only blanch them for one minute, hull them and then by the time the corn is warmed through, the favas are perfect.
Grill the shrimp
Toss the shrimp one more time to thoroughly coat them in oil.
Place them on the grill and cook about 90 seconds each side, depending on how hot your grill is.
Off Script…
Add a chopped roasted red or orange bell peppers to the succotash.
Use dry scallops (Dry scallops are not treated with phosphates.  They won't brown if they aren't dry.) instead of shrimp.
Pan-sear the shrimp instead of grilling them.
Substitute edamame for the fava beans.

Print This Post