/?php include(TEMPLATEPATH."/breadcrumb.php");?> /?php if(function_exists('wp_print')) { print_link(); } ?>
Tofu and Vegetable Soup in Miso Broth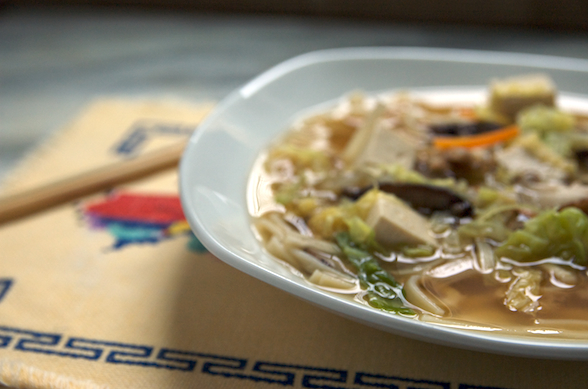 As Chicago warms up to a balmy 40-degrees, the hearty, beefy stews of winter begin to feel like a wool sweater- uncomfortably heavy. But we're not yet ready to start showing off our pedicures. This is the time when I most crave a dashi-based soup.  It's light, nourishing and full of flavor.  It's also still warming.Use this recipe as a basis for all kinds of experiments with vegetables.  You want to balance the flavor of your vegetables:  use small amounts of intensely flavored veggies- such as bell peppers- and larger amounts of the more subtle ones- like radishes.
Ingredients
For the broth
1 recipe dashi broth (about 8 cups)
2 heaping tablespoons red miso paste
1 heaping tablespoon white miso paste
For the vegetables
1 medium leek, julienned and carefully rinsed for sand
1 large carrot, julienned (about 1/3 cup)
1 large rib of celery or 1/8 medium celery root,  julienned
¼ medium head of cabbage, core removed and sliced very thinly
10 medium shiitake mushrooms, stems removed and caps thinly sliced
3 ounces oyster mushrooms, separated and sliced as necessary
To finish
14 ounces tofu (any firmness, though silken would be nice), pressed to extract water* and cut into ½" cubes
2 tablespoons sake
1 ounce (uncooked weight) wheat noodles per person (such as chow mein or soba), cooked and rinsed in cold water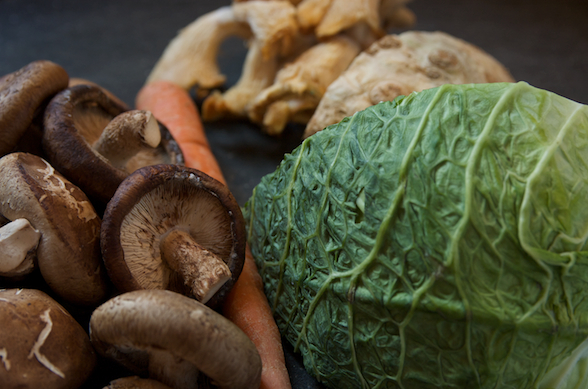 Instructions

Compose the broth
Bring the dashi broth just to a boil and then turn down to a gentle simmer.
Place a fine mesh sieve into the broth.  Place the miso into the sieve and stir to dissolve, pressing it into the sieve to break it up as necessary.  Remove and discard the remaining solids.
Cook the vegetables
Add the leek, carrot and, if using, the celery.  Simmer for about 90 seconds.
Add the mushrooms and cabbage.  Simmer for about 3 minutes.
Add the celery root, if using.
Finish the dish
Add the tofu and sake and allow to just warm, about 90 seconds.
Divide the noodles among the bowls and ladle the soup over them
Off Script…
In the spring, use asparagus and pea shoots in place of the cabbage and celery.  You can really use any sort of combination of subtly flavored vegetables and make this soup your own.

Print This Post