/?php include(TEMPLATEPATH."/breadcrumb.php");?> /?php if(function_exists('wp_print')) { print_link(); } ?>
The Swiss Army Knife of Kitchen Appliances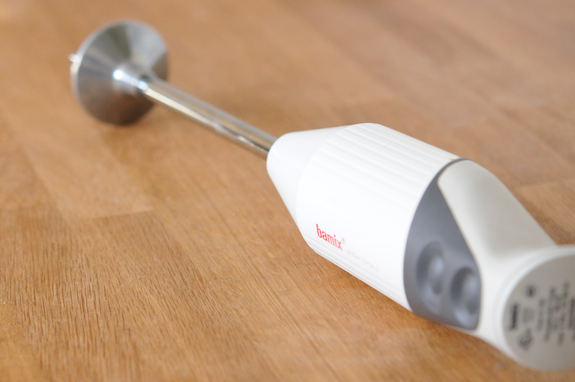 Like a redneck handyman without a roll of duct tape, I'd be lost without my immersion blender. I'd sooner give up my iPhone or baby wipes.  There is no better or more effective kitchen multi-tasker. Nothing else saves me more effort or clean up. Nothing comes close to its versatility. I reach for it as often as I reach for my chef's knife.
My immersion blender is the best choice for:
• Making baby food
• Pureeing soups
• Mixing thin batters
• Scrambling eggs
• Whipping cream
• Blending hot chocolate
• Making pesto
• Pureeing smooth sauces and marinades
• Making salad dressing
• Making dips like hummus
• Making a single smoothie
• And most importantly, mixing up a single-portion frozen drink
Of course your standard blender or stand mixer can do much of this. But do you want to clean them? I don't. Using my immersion blender is effortless because cleaning it is no different than cleaning a wooden spoon.
I sent four $30 immersion blenders to the landfill before I decided to make a bigger investment. About 3 years ago, I spent $175 and bought a professional quality model made by Bamix. This higher-quality blender is sturdy, reliable and tough enough to tackle tasks that would destroy a cheaper blender. Don't try crushing ice or mixing thick dips with a $30 blender. My Bamix has specialized blades for blending, aerating (whipping), chopping and mincing. Cheaper models only have one.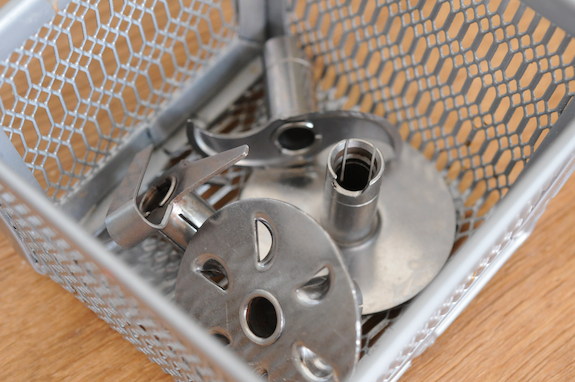 If you don't already own one, you might be tempted to start off with a $30 model. That'll do, but don't expect to get the same life-altering effect from it that I've described. It's a little like hoping that a Shake Weight is going to give you a bod' like Matthew McConaughey . Its better than nothing but you really need to go all-in to get the full benefit. If only I'd have known to buy a Bamix in the beginning, I'd have saved myself $125.

Print This Post