/?php include(TEMPLATEPATH."/breadcrumb.php");?> /?php if(function_exists('wp_print')) { print_link(); } ?>
The Modern Nomads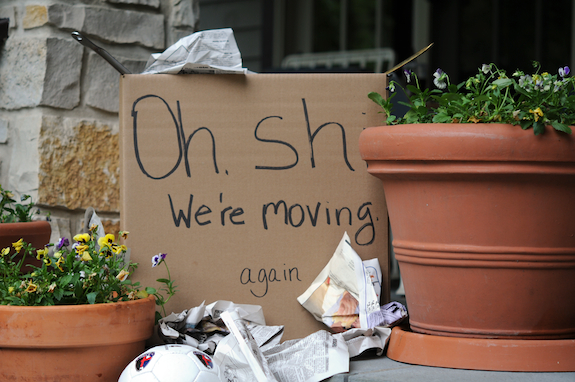 That's right. We're relocating.
Again.
For those of you who know me only through this website, I should elaborate. This will be our fourth move in 10 years. It'll be our third relo since starting our family. The sequence goes like this: New York City to San Francisco to Connecticut to Chicago to New York City- or maybe a suburb, but I'm cheering for the city this time.
This one'll be easy. I was pregnant for the last two moves. I'm also getting pretty good at this.
My husband got a new job at another company. He'd been with the same company for 18 years- until last Friday. No, he's not old. Or is he? Am I? He joined the company right out of college. This is a big deal for him and us- only behind getting married and having our first child.
I didn't post last week. Now you know why. I was so overwhelmed- not with anxiety, rather just with the momentousness of it all. I lost my appetite. Okay, that is a big deal. I never lose my appetite. If you don't want to eat, you sure as hell don't want to write about food either.
To make you all feel even better, I'll confess that I didn't cook last week. Not at all. Food was thoroughly uninteresting to me. Yes, even Jill Shepherd has those weeks.
I'll keep posting throughout this process. It oughta be interesting. I have a feeling there will be a new sort of simplicity to my recipes and messages. We'll have to eat our way through the chest freezer. Constraints like that always fuel my creativity. At some point my pots and pans will all be in a box in a truck. I'll have the guys put yellow reflective tape all over those boxes so I can find them first.
I'm looking forward to some of the wackiness of it all. The smell of cardboard and giant Sharpie markers, little color-coded, numbered stickers to pick off of everything for the better part of a year, "dating" new girlfriends. I have these absurdly fond memories of the process of working with the movers. It's a funny relationship- a group of strangers is going through every belonging in my home, taking care of it and anticipating its arrival at my new destination and its place in my new life. I have a lot of time to kill with these guys. We shoot the shit while they wrap stuff in paper and bubble wrap. I've heard testimonies of salvation, stories of addiction and recovery, musings and observations from folks who live in a world so removed from mine. I've also swapped lots of recipes and food tales with Italian, Puerto Rican and Eastern European packers.
I don't say goodbye. That's silly, since I'm not dying and we live in an age of email, Facebook and Skype. I've learned that moving creates a new dynamic in a relationship. While it is unarguably more fun to be physically close to your friends, there is something about distance that brings a trueness to relationships that I treasure. It peels the skin off the orange to reveal which ones are juicy and flavorful and which are dry and bland.
By the time I know where to buy the best produce and meats in my new destination, we'll all have taken a journey together. Everyone endures chaos in their lives: the birth of a child, family illness, career upheavals, economic crises. My relo will be a metaphor for your current or future chaos. Hopefully, you'll learn something that will help you use food and eating well to anchor you through the storm.

Print This Post