/?php include(TEMPLATEPATH."/breadcrumb.php");?> /?php if(function_exists('wp_print')) { print_link(); } ?>
Tex-Mex Succotash
Corn and beans are the classic Mexican subsistence food. For thousands of years the Mayan civilization depended upon these staples for their existence. They had no idea how important to their survival this combination actually was. You see, the combination of the amino acids in beans and corn makes a protein that is perfectly complete for the human body to use. Arguably, succotash in its varying forms- just about any kind of bean combined with corn will do the trick- might be the most important food for vegetarians to make a regular part of their diet.

Diet and history aside, we just love succotash. Sweet, bright corn and earthy beans look and taste beautiful together.
For another great take on succotash, try Vadouvan Grilled Shrimp with Fava Bean Succotash.
Ingredients
Pre-cooked ingredients
3 cups cooked Mexican beans, such as black or pinto (about 2 cups uncooked)
1 pint grape or cherry tomatoes, halved
Aromatics and Spices
1 medium-large onion, chopped
1 large bell pepper, chopped
1 medium jalapeno pepper, seeded and finely chopped
1 teaspoon kosher salt
½ teaspoon ground cumin
½ teaspoon ground coriander seed
1 tablespoon ground dried chipotle chiles or chile powder
To finish
6 ears of fresh corn, kernels removed or about 4 ½ cups corn kernels Don't worry if you have a few silks mixed in with the corn kernels. You'll barely notice them in the finished dish- and there's something about them the offers an authenticity to the dish.
1 tablespoon chopped fresh cilantro
Juice of ½ lime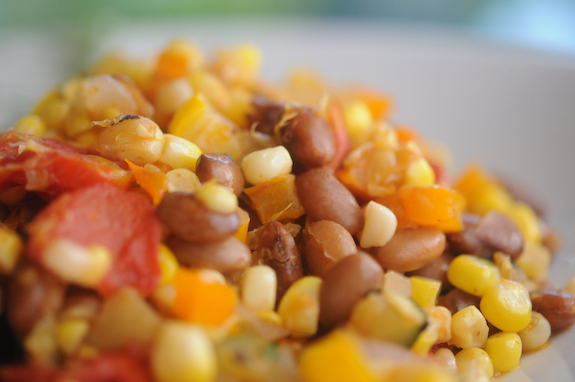 Instructions
Prepare ingredients
1. Cook beans until tender. This may take a few hours for fresher dried beans or older beans may require an overnight soak. I love Rancho Gordo beans because they taste great, are beautiful, and only take a few hours to cook.
2. Arrange tomatoes in a single layer on a rimmed sheet pan and salt them liberally with kosher salt. Roast at 450 degrees for about 15 minutes- until they have shrunken to almost 50% of their original size.
Sweat the aromatics and spices
1. In a very large skillet over medium heat, add the onion, peppers and salt and sweat until very soft and tender, about 12 minutes. Take care to monitor the heat to avoid browning. "Sweating" involves cooking ingredients without browning them. This is done with low heat, longer cooking time and often with the cover on.
2. Add the spices and cook for 2 minutes more. These particular spices like heat. Adding them now gives their flavor more time to deepen and meld.
Finish the dish
1. Add the corn and cover, stirring frequently. Cook until tender, about 12 minutes.
2. Add the tomatoes and beans. Stir to combine and cover to warm, about 5 minutes.
3. Finish the dish with the cilantro and lime juice.
Off Script…
I made this dish with the best of what was fresh in early August. You could improvise with frozen corn and canned tomatoes. You could even add the fresh tomatoes without pre-cooking them.

Print This Post