/?php include(TEMPLATEPATH."/breadcrumb.php");?> /?php if(function_exists('wp_print')) { print_link(); } ?>
Spaetzle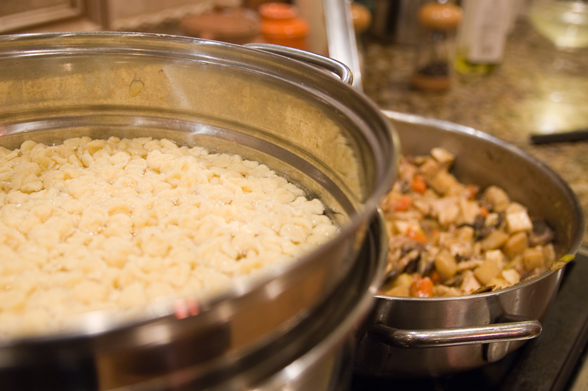 Adapted from The Betty Crocker Cookbook, 40th Anniversary Edition
Spaetzle [shpet-sluh, -suh
l] are wonderful, light, tiny dumplings that just love anything made with a gravy or sauce.  They couldn't be easier to make (buying a boxed version of these is unthinkable).  Think about substituting spaetzle for noodles in a chicken or beef soup.

I made these routinely with the colander method for two years until I finally got a spaetzle maker.  What an idiot!  It's a tiny, inexpensive little tool and the results are infinitely easier and better.  If you make them once and like them, just buy the spaetzle maker.  You can find one at any well-stocked kitchen store or online.
Finally, I always use 100% whole wheat flour for these.  This is one dish in which your family really won't even notice the full substitution.
Ingredients
For Batter
2 eggs, beaten
¼ cup milk or water
1 cup all-purpose or whole wheat flour
¼ teaspoon salt
Dash of pepper
To Finish
1 tablespoon butter
Instructions
Bring at least 2 quarts of water to a boil.
Mix eggs, milk, flour, salt and pepper.  Batter will be very thick.
Press better through a spaetzle maker or a colander with large holes into the boiling water.  Stir once or twice to prevent sticking.
Cook about three minutes or until spaetzle rise to the surface and are tender.  Drain.
Toss with butter and serve
Makes 3 cups spaetzle.

Print This Post