/?php include(TEMPLATEPATH."/breadcrumb.php");?> /?php if(function_exists('wp_print')) { print_link(); } ?>
Sauteed Cabbage with Bacon & Cream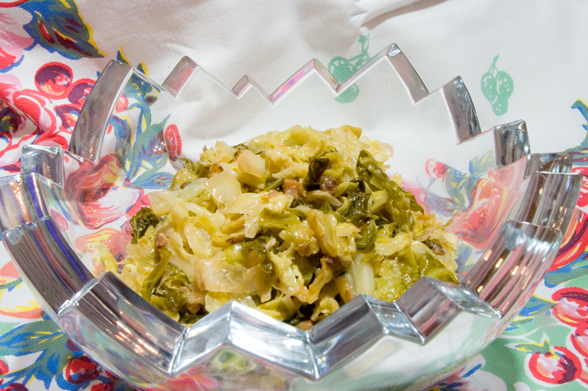 One day, my then 7-year-old daughter, Sophie, came home from school with a friend, Jessica.  "What's for dinner?" Soph asked me.  "Roasted Pork Loin with Cabbage." I replied.  "The creamy kind?" she pursued with obvious anticipation.  "Yup."

She grabbed Jessica by the shoulders and looked into her face.  "Did you hear that?  Don't you just love cabbage?  Oh my gosh, you HAVE to call your dad and ask if you can stay for dinner because you'll just die if you have to miss the cabbage."
You should have seen the look on Jessica's face.  Gotta tell ya though, this dish is so amazing you'll be shocked that you could love cabbage this much.  Yes, it contains two major taboo ingredients, but it isn't too much.  Enjoy it.  You can reduce the amount of heavy cream, just adding enough to moisten the cabbage.  Pair with a dish with a simply prepared meat dish.
Ingredients
¼ lb (4 slices) bacon, chopped into bits
1 head Savoy cabbage (or other green cabbage), cored and very thinly sliced
1teaspoon salt
½ cup heavy cream
Instructions
Ground pepper to taste
Cook bacon in heavy, steep-sided skillet over medium high heat, stirring until golden, 3 to 4 minutes.
Add cabbage and salt and cooking over medium heat, stirring, until cabbage is wilted, about 3 minutes.Add cream, reduce heat to medium low, cover, and cook, stirring occasionally until cabbage is tender—about 10 to 15 minutes.  Season with salt and pepper.

Print This Post