/?php include(TEMPLATEPATH."/breadcrumb.php");?> /?php if(function_exists('wp_print')) { print_link(); } ?>
Rustic French Meatloaf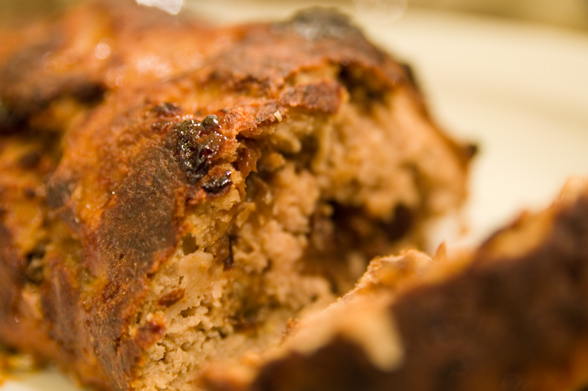 Adapted from Gourmet Magazine, April 2009
When I first made this meatloaf and caught my family's reaction, I knew this would likely be the kind of dish the kids would ask me to make when they come home from college for the weekend.  I'm not a big meatloaf lover but we all went crazy for it.  Now don't get all crazy about the chicken livers on me:  they add richness and a lot of nutrition and you're not going to taste this dish and go, "Oh, I taste the chicken livers."  Just try it.  You'll see.
Ingredients
1 cup fine fresh bread crumbs
½ cup whole milk (You don't have to use whole milk, but don't use skim. You need the fat for the overall texture of the dish.)
¾ cup finely chopped onion
3 large garlic cloves, minced
1 tablespoon olive oil
½ pound chicken livers (If you can't find them in your store's meat section, ask the butcher.  They sometimes keep them in the back.)
¾ pound ground pork
¾ pound ground veal
¼ cup finely chopped prunes
¼ cup roughly chopped pistachio meats
2 teaspoons fresh thyme leaves
2 large eggs, lightly beaten
1/3 cup chopped Italian parsley
Instructions
Preheat oven to 475-degrees.
Soak bread crumbs in milk in a small bowl.  This is called a

panade

.  A panade is used as a binding agent in things like meatloaves and meatballs.  It holds the meat together and enhances texture.
Turn sauté pan on to medium heat.  Add onions and garlic to pan and season with salt and pepper.  Cook until onion is softened and translucent, about 5 minutes.  Always, always, always season aromatics during cooking to bring out their best flavor.
Puree livers in a blender and transfer to a large bowl with pork, veal, prunes, pistachios, thyme, eggs, panade, and cooled onion mixture.  Season with salt and pepper (about ½ teaspoon each or to taste).
Smoosh it up with your hands!
On a rimmed baking sheet or, if unavailable a 9×13 pan, form the meatloaf into a log about 8-inches long.  It is going to be a little soft, but do the best you can to sort of push it together.  I greatly prefer meatloaf done this way because you get a wonderful, crunchy Maillard reaction on the outside that adds so much to the overall flavor profile.  You can, however, do it in a loaf pan.  Try it my way first.

Start checking for doneness at 35 minutes with a meat thermometer inserted in the center of the loaf.  The meatloaf is done when its internal temperature reaches 165-degrees.

Remove from oven and allow to rest for 5-10 minutes.  Sprinkle with parsley, slice and serve.  Even if your kids are weeping with hunger, don't skimp on the rest time or you'll lose the moisture of the meat to your cutting board.

Print This Post