/?php include(TEMPLATEPATH."/breadcrumb.php");?> /?php if(function_exists('wp_print')) { print_link(); } ?>
Roasted Green Beans with Garlic and Shallot Oil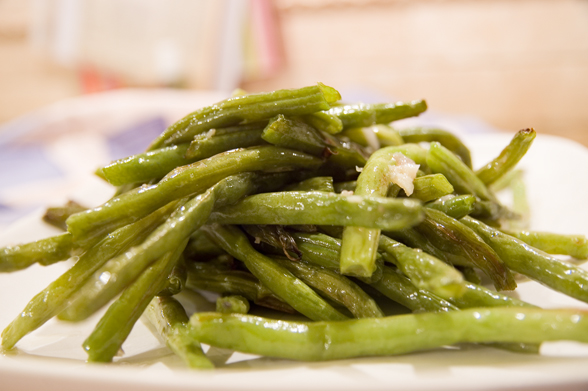 We eat these like French fries.  They're just that good.  Roasting them allows me to pop them in the oven about 15 minutes before I serve dinner and not really have to think about them.  I really love the Maillard reaction that gives them such great flavor on the part that makes contact with the pan.

You can do this dish using any unflavored oil, and I often do.  However, in the winter when the green beans don't have the kind of summery sweetness they have when they're in season, your green beans will love you for having this "condiment" around to compensate for their inadequacies.  I keep It covered in the fridge much of the winter to flavor all kinds of roasted veggies.  Just keep adding oil to it as needed.  Start over with a fresh batch every week.
Why shallots and not onions? I know many of you are unfamiliar with them and here's an easy way to think about shallots vs. onions:  Onions are Marilyn Monroe.  Shallots are Audrey Hepburn.  Get it?
Ingredients
For Oil
2 tablespoons grapeseed or olive oil
1 small finely minced shallot
2 cloves garlic, mashed into a paste with the side of a knife (see note below) or pressed
1 heaping teaspoon kosher salt
For Green Beans
1 ½ pounds fresh green beans, stem ends removed
Note: To mash garlic into a paste, roughly chop the cloves then sprinkle them liberally with kosher or sea salt (not fine) to add abrasive and chemical  help in smashing the cloves. Now,  using the flat side of your knife, smoosh them across the surface of your board using a back and forth "wiping" motion.
Instructions
Preheat the Oven
1.     425-degrees
Make the Garlic & Shallot Oil
1.     Assemble the oil by mixing all ingredients for oil in a small bowl.  The texture should be like an oily paste.
2.     Allow to stand on countertop for 10 minutes while you trim the green beans.  This gives the oil some time to absorb the flavors of the aromatics.
Step two
1.     Place green beans in a heaped up pile on a baking sheet- preferably one with sides.
2.     Using your fingers to press down on and hold back the solids, drizzle the oil over the beans and toss with your hands to create an even sheen on the beans.
3.     Arrange beans in a single layer on the sheet, overflowing to a second sheet if necessary.
4.     Salt moderately with kosher salt, remembering that the oil is salted.
5.     Roast in oven until desired degree of doneness, about 12 minutes.
Off Script…
Finish with freshly grated parmesan, black pepper or a few chili flakes.
Truth be told, I actually roast mine at 450-degrees because I like them really brown.  I think my desired degree of brownness is probably too much for the average person so I suggest 425 for you all.  If it turns out that you're in my camp, just turn that heat up next time.

Print This Post