/?php include(TEMPLATEPATH."/breadcrumb.php");?> /?php if(function_exists('wp_print')) { print_link(); } ?>
Pumpkin Pancakes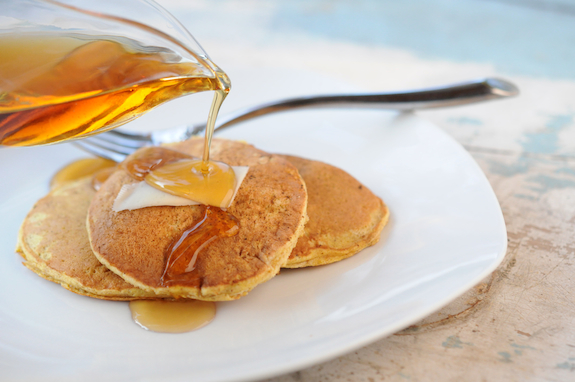 Adapted from Bon Appetit magazine November 2008
The snappy, cool breezes of fall put me in the mood for all things made with pumpkin. Pumpkin pie at Thanksgiving just isn't enough for me. It took me two years to find a pumpkin pancake recipe that had the right texture and flavor.

I make my own pumpkin puree and use it for both Pumpkin Pancakes as well as Cranberry Pumpkin Muffins. The pumpkin can either be roasted in the oven or, easier yet, microwaved. Then all you have to do is scoop out the flesh and process in a food processor until smooth. It is just that simple. Why bother? Well, I personally think the pumpkin color and flavor is more intense and have a hunch that there's more nutrition in the fresh stuff.
My favorite way to serve these is with Cranberry Maple Syrup. Its jewel-like magenta color oozing over the vivid orange pancakes is a sight to behold. Alas, I've yet to spot my first cranberry in the store. As soon as I do, I'll publish the recipe. The basic idea is that you just cook down, then puree and strain some fresh cranberries adding the resulting sauce to maple syrup in a 1:2 ratio (cranberries:syrup). You could conceivably do this with the jellied stuff but, well- I'll wait for the fresh berries.
Ingredients
Dry Ingredients
2 cups flour I use 1 cup all-purpose and 1 cup whole wheat
1/3 cup sugar
2 1/2 teaspoons baking powder
2 teaspoons pumpkin pie spice or 1 1/4 teaspoons cinnamon, ¼ teaspoon ground cloves, ¼ teaspoon ground nutmeg and ¼ teaspoon ground allspice I just grind cloves and allspice freshly in a mortar, grating cinnamon bark and nutmeg on a dull Microplane grater, eyeballing the amounts. The freshly ground spices are much stronger in flavor, so my total amounts are probably less than 1 ½ teaspoons.
1 teaspoon iodized salt
Wet Ingredients
2 cups whole milk
1 ¼ cups pumpkin puree
6 large eggs, separated
5 tablespoons unsalted butter, melted
1 ½ teaspoons vanilla extract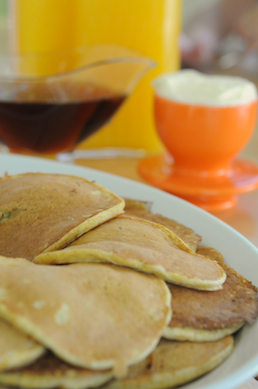 Instructions
1. Preheat a griddle to 400-degrees.
2. Preheat an oven to 200-degrees and place a serving plate for the pancakes inside.
3. Mix wet (ex. egg whites) and dry ingredients separately, reserving egg whites.
4. Beat egg whites to a pliable but stable meringue- the soft peak stage.  Soft peak stage is the point at which the whisk leaves a peak that falls over on itself when withdrawn.
5. Fold the meringue into the batter until mostly integrated. Don't worry about any little chunks of meringue floating in the batter.
6. Ladle the batter onto the griddle and cook until small bubbles form on the surface of the pancake. Flip over and finish cooking. The pancake is done when the center feels springy when touched.
7. Remove pancakes to the serving plate and keep them warm in the oven until all batches are cooked and they're ready to be served.

Print This Post