/?php include(TEMPLATEPATH."/breadcrumb.php");?> /?php if(function_exists('wp_print')) { print_link(); } ?>
Pumpkin Cranberry Baked French Toast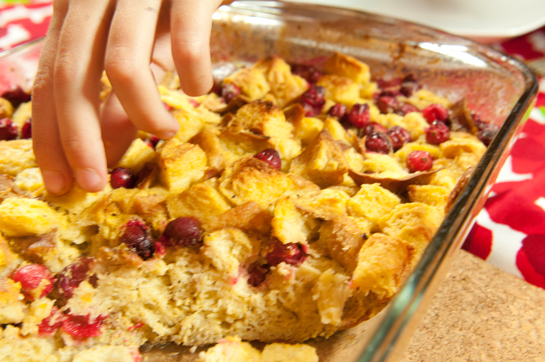 Nothing moves my morning along like the aroma of pumpkin pie mingling with my morning coffee. This breakfast takes no time to whip up the night before- I often do it while dinner is baking or sautéing. I've shortened the prep time even further by grinding the mix of spices in a batch so I just have to add a teaspoon of it. It's basically "pumpkin pie spice." The next morning, I stagger bleary-eyed downstairs and throw it in the cold oven and move on to the business of the morning. By the time the lunches are made, breakfast is ready.
My mornings have become more complicated as I now have three kids to get off to elementary school and one to take to preschool this year. Now consider that the construction crew conveniently arrives at the house just as I'm trying to get each kid matched with a backpack, lunch and shoes. Add to the mix a puppy who's learned that the peaking chaos of the school morning is the perfect time for mischief. A bowl of Cheerios just isn't gonna get me through that kind of morning.
Ingredients
Dry Ingredients
8 cups challah bread, cut into 1"cubes
2 cups whole cranberries, fresh or frozen
Wet Ingredients
½ cup maple syrup
6 eggs
1 ½ cups whole milk
2 tablespoons melted butter
1 ½ teaspoons vanilla
1 ½ teaspoons (packed) microplaned fresh ginger, (about 1" ginger)
3 cloves, ground or a generous dash of ground cloves
½ teaspoon ground cinnamon
¼ teaspoon ground nutmeg
8 allspice berries, ground or 1/4 teaspoon
½ teaspoon salt
12 ounces fresh pumpkin puree or one 15 ounce can The fresh pumpkin has more flavor and color so you can use less if you care to.
Instructions
Prepare the dry ingredients
1. Lightly grease a 9" x 13" baking dish.
2. Add the bread and cranberries to the dish.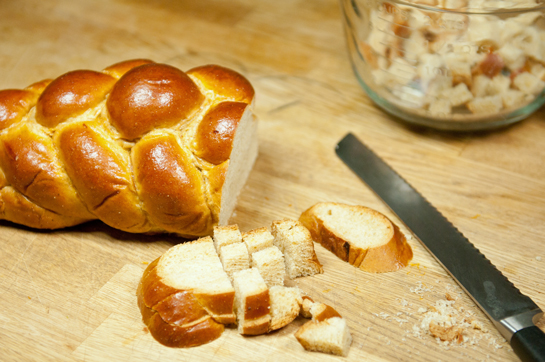 Prepare the wet ingredients
1. Add all of the wet ingredients in a blender and blend to combine.
Combine and let sit overnight
1. Pour the wet ingredients over the dry and toss lightly with a large spoon to combine. It should seem watery. The bread will absorb the liquid overnight.
2. Cover and let stand in refrigerator overnight.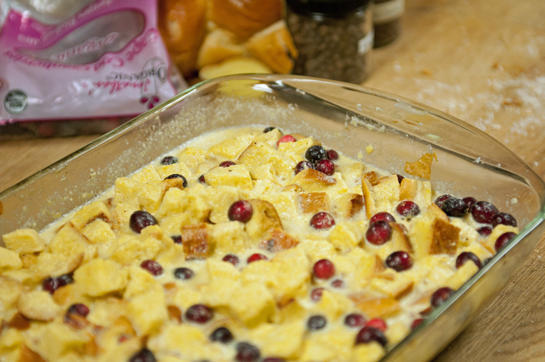 Bake and serve
2. Preheat the oven to 350-degrees.
3. Remove and uncover the dish. Bake 45-60 minutes or until done. Because I usually just pop it into a cold oven, I allow closer to that 60 minutes to finish baking. You can tell its done when the cranberries are popped and the top of the bread takes on a bloated appearance. That doesn't really happen until the last minutes of baking. If in doubt, stick a knife in the middle and look for sogginess.
4. Serve. Its lovely with a little extra drizzle of maple syrup.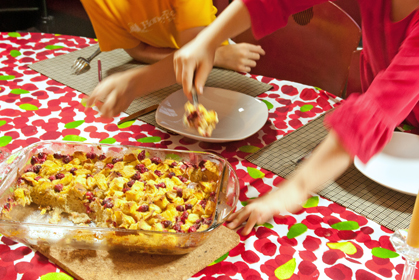 Print This Post