/?php include(TEMPLATEPATH."/breadcrumb.php");?> /?php if(function_exists('wp_print')) { print_link(); } ?>
Puerco Pibil (Yucatan-Style Slow Roasted Pork)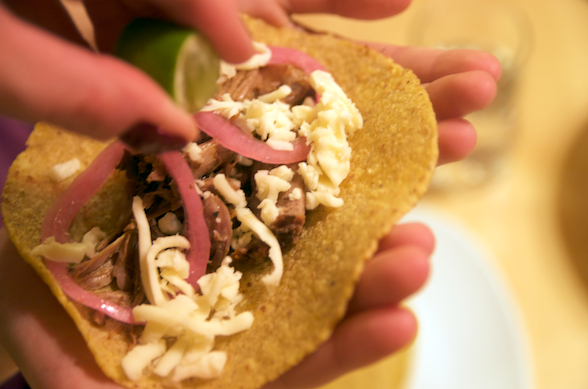 Adapted from Recipezaar.com recipe number 86448
Here's a little something to consider for the upcoming Cinco de Mayo.  It's a dish that's a bit of a hybrid of braising and roasting.  It isn't really roasting because you are containing the juices of the meat to keep the meat moist and flavorful.  It isn't really braising because the meat isn't sitting in a braising liquid.  It's very flavorful and versatile.

We served this meat with torilllas, crumbled queso blanco, pink pickled onions, rice, salsa, avocado, lettuce and tomato.  The kids made their own combinations.  It was super yummy and any leftovers freeze well because the meat is so moist.
Achiote (also translated as "condimented annatto") is a seasoning blend that you can actually purchase as a powder.  You could use that instead of the homemade stuff with satisfactory results.  You could find it in the Mexican section of most well-stocked supermarkets.
Banana leaves can be found in an Asian grocery- either fresh or frozen.  They're a fun, dramatic element of the recipe and smell beautiful as they cook and fragrance the food.  They could be substituted with aluminum foil or parchment paper.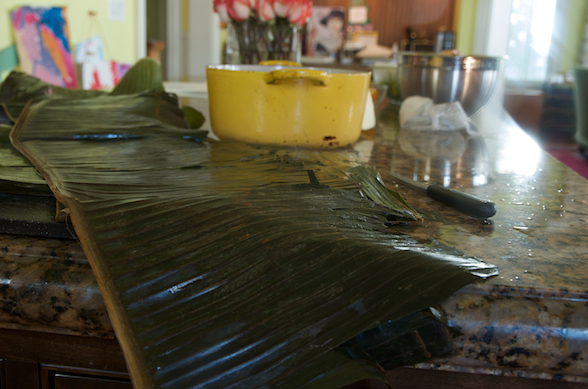 Ingredients
For the Achiote Recado
4 tablespoons annatto seeds
1 cup water
2 teaspoons ground allspice
4 teaspoons ground black pepper
1 cup dried ancho chile powder I grind mine fresh from dried ancho chiles, but you could just use store-bought chili powder.
1/4 cup kosher salt
2 tablespoons dried Mexican oregano
1 teaspoon cumin
6 cloves garlic, peeled
1 medium white onion, thickly sliced
1/2 cup apple cider vinegar
3 cups freshly squeezed orange juice
1/2 cup fresh lemon juice
Habenero, Serrano or jalapeno peppers- to taste.
Meat
3 pounds pork shoulder (whole or cut into 2" thick slices)
2 banana leaves (enough to wrap pork)
Instructions
Prepare the annatto seeds (two hours before assembling the achiote)
Place annatto seeds and water in a small saucepan.  Bring to a boil, reduce heat and simmer for 30 minutes.
Remove from heat and allow to continue to steep for about 2 hours.
Cook the aromatics for the achiote
Place a skillet over low heat.  Add the peeled garlic gloves and cook until browned- taking care not to burn.  Remove and set aside.
Turn skillet heat up to medium high.  Add some cooking oil.
Cook onions until soft and brown.
Assemble the achiote
Place all achiote ingredients in a blender or food processor.  Blend until a smooth paste forms.
Marinate the pork
Add enough marinade to a zip-top bag to thoroughly drench the pork.  Push the air out of the bag and seal it tightly.  Reserve the extra marinade for another use.
Refrigerate.  Marinate for at least two days but no longer than five.  The meat will grow saltier the longer it is kept.  Turn the meat to redistribute the marinade once a day.
Roast the meat
Preheat oven to 325-degrees.
Layer the bottom of a dutch oven or other pot suitable for roasting with banana leaves.  Place the meat with its marinade in the pot.
Wrap the leaves over the meat to cover completely.  You are trying to keep as much steam inside the leaves as possible.  Cover with tightly-sealed pot lid.
Cook for about 4 hours or until fork tender (don't open it up too much or you'll loose precious steam and heat).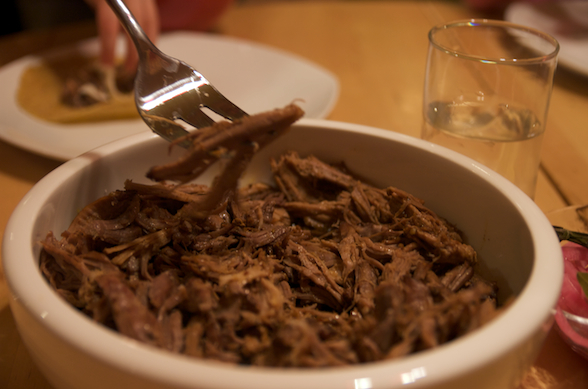 Serve
Let rest for 30 minutes, then coarsely shred, removing any large fatty pieces.
Serve with salsas, pink pickled onions, warm tortillas, and margaritas for mommy and daddy.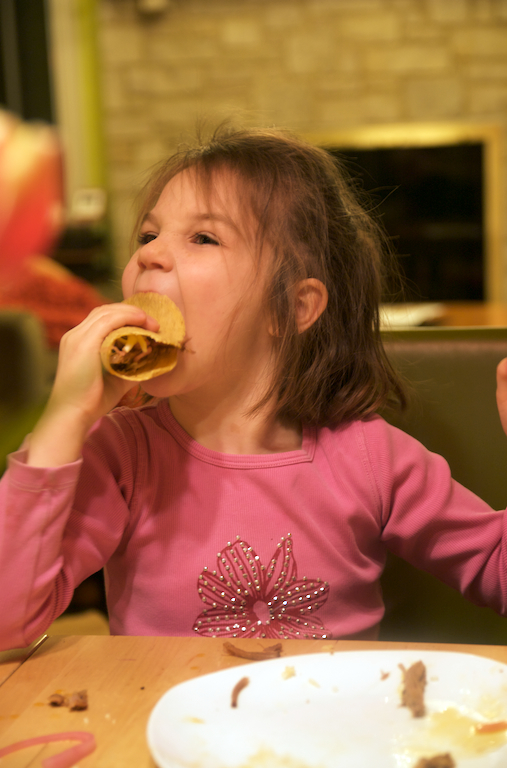 Print This Post