/?php include(TEMPLATEPATH."/breadcrumb.php");?> /?php if(function_exists('wp_print')) { print_link(); } ?>
Produce Primer: Real Strawberries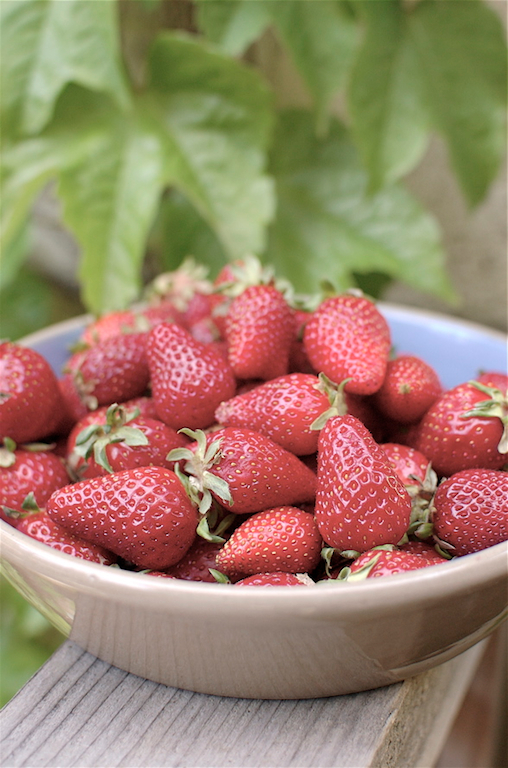 There is a strawberry season.   It's in full swing right now in sunny California.  "Oh please," you may say, "I can get strawberries year-round."  In the dead of winter you can always pick up a pint of fruit called "strawberries"– those giant, scentless, underripe, and largely flavorless strawberry-shaped objects.  A little red styrofoam, anyone?  The truth is that those babies are engineered to fill containers cheaply (the bigger the berries, the easier to handle), look pretty (red and shiny on the outside, white and dry on the inside) and ship looooong distances without bruising or spoiling.  Flavor and texture are minor considerations, since you aren't allowed the reality check of a taste before you pay for them.
What I'm enjoying from the markets now is the real deal- the strawberries of poetry.  Scarlet red, soft, juicy, flavorful, sweet, perfectly ripe, and addictive.  Real strawberries are incomparable.  They are one of the best examples of the advantage of eating seasonally.  Laying aside all of the environmental, political and social factors espoused by locavores, fresh seasonal strawberries simply taste so much better.  The argument is over when you compare a seasonal, local berry with a clam-shell-packaged January berry. The real strawberry will be the prosecution's opening remarks, exhibit A, cross examination, and closing argument all in one bite.
Real strawberries are much smaller than the commercially farmed ones.  Real strawberries are red from top to bottom and throughout–no pithy white or, worse, green to be seen.  Real strawberries smell beautiful.  It's a scent that should be distilled in its truest form into a perfume.  They're totally sensual.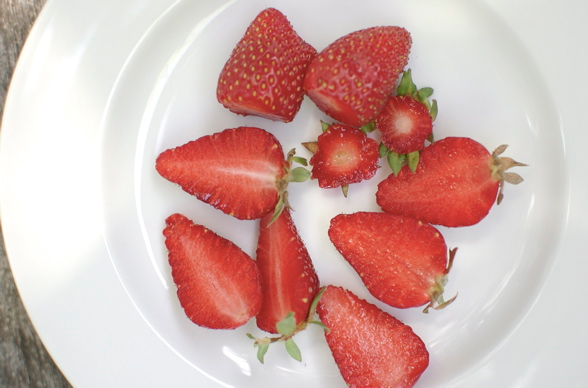 If you're eating real strawberries, you will most likely have the option of tasting them before purchase, as usually only the ones that are shipped a long distance are trapped in clear plastic boxes.
Snack on them plain, make a shortcake, add them to yogurt, throw them in a spinach salad. Whatever.  Freeze a flat or make a simple freezer jam (jam that you store long-term in the freezer, rather than going through the canning process) to enjoy them throughout the year.  You will not have any problem finding uses for strawberries, so if you find a good source now, go ahead and buy more than you think you'll need.  As an added nutritional bonus, they're full of vitamin C, folate, potassium, and are a good source of fiber.
Store them unwashed in your refrigerator until you are ready to use them.  At that time, I recommend washing them in a salad spinner:  dunk the basket into the full bowl of water, gently agitating the berries with your hands, and then left the strainer out to leave the dirt and loose seeds behind.  Dump out the dirty water and spin them dry.  Gently turn the berries out onto a kitchen towel and you're ready to go.
Eat your fill over the next few weeks.  Give yourself a chance to become a little tired of them if you dare.  Then resolve to go without them when they're not in season.  The rarity of these red jewels in your life will increase your devotion as you eagerly anticipate next spring's bounty.  Because they're such a treasure, you'll find yourself  hoarding what's available now and making a jam factory out of your kitchen.  Either way, you owe it to yourself to seek out some real strawberries this spring.

Print This Post