/?php include(TEMPLATEPATH."/breadcrumb.php");?> /?php if(function_exists('wp_print')) { print_link(); } ?>
Pink Pickled Onions
Adapted from Recipezaar.com recipe number 73203.  Originally published on Epicurious.com
A week or so after I made these, Sally, my five-year-old, was griping that she didn't want to eat pizza for dinner.  We were ordering out that Friday night and she actually hates pizza.  When I told her to find something in the fridge that she'd prefer, she said she just wanted to eat the "onion pickles." Huh?  "Sure," I replied, convinced she'd figure out that this was not a good idea on her own.  Invariably distracted, I never realized that she ate the whole jar until I found it in the dishwater.

"Where did the onions go that were in this jar?" I asked.

"Silly momma.  That was my dinner," replied Sally.

"All of them??!"

"Of course.  They're yummy."

Yikes!  No night-night smooches for you tonight!

These are delicious not just on the Puerco Pibil, but really as a condiment to any grilled meat or fish.  They are gorgeous, and could be preserved in canning jars- properly sealed- for a long time.  We're just keeping ours in the fridge, since I haven't yet tackled the nuances of canning.  It still intimidates me.

Ingredients
2 lbs red onions, thinly sliced,separated into rings
6 sprigs fresh rosemary (4-inch)
2 cups champagne vinegar or white wine vinegar
1 1/2 cups water
1 cup sugar
1 1/2 tablespoons whole mixed pickling spices I just added some of my favorite whole spices- cumin, coriander, peppercorns, cloves, allspice, etc.
2 teaspoons kosher salt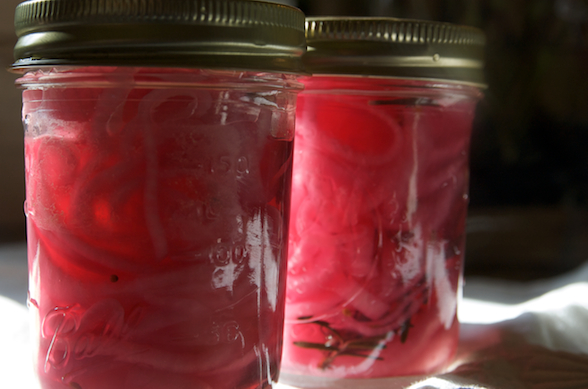 Instructions
Place 1/3 of onions in large (at least 2-quart) tempered jar or container with tight-fitting lid.
Add 2 rosemary sprigs.
Repeat layering twice more with remaining onions and rosemary.
Bring vinegar, 1 1/2 cups water, sugar, pickling spice, and salt to boil in medium saucepan over high heat, stirring until sugar dissolves.
Reduce heat and simmer 2 minutes, stirring often.
Pour hot liquid over onions, pushing onions down into liquid.
If necessary, add just enough cold water to cover onions.
Cool.
Place lid on jar; refrigerate at least 1 day.

Print This Post