/?php include(TEMPLATEPATH."/breadcrumb.php");?> /?php if(function_exists('wp_print')) { print_link(); } ?>
Persephone's Risotto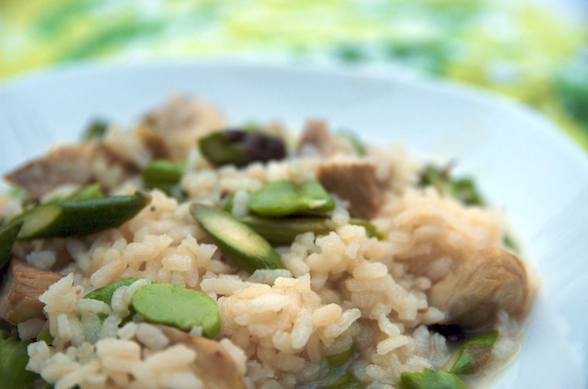 Persephone is the Greek goddess of spring.  This risotto features the most divine, sublime produce of springtime all in one dish.  Admittedly, the artichokes and favas have a diva-like quality as they play "hard to get" with their hearts.

Last Saturday was a crusher of a day- filled with Birthday parties, soccer games, theater practices and all other manner of kid-oriented busyness.  At the end of the day I was hungry for a good meal and in need of some chill time.  My husband was taking one of our daughters out for a date night.  I was in the mood to cook.
I had artichokes, asparagus and fava beans left over from a knife skills class I'd done earlier in the week.  It was a bit decadent to use two ingredients that take so much time to prep, but I was in no hurry and the results would be worth it.  I wanted the flavors of these three ingredients to really shine.  I really just wanted to taste them without much else to interfere, so I didn't even use aromatics.  This dish turned out to be a great illustration of what Kyle was talking about in his "Mas o Menos" post:  less is more when you're using great ingredients.
I poured a glass of Riesling.  Penelope hopped up to the island.  She started off just helping me pull the favas out of their fuzzy moss-colored pods but- as she always does- she gave the raw beans a try.  She was crazy about them.  She started shoving fistfuls raw beans into her mouth.  I couldn't stop laughing because, seriously, what two-year-old does that?  When she started making a real dent in the amount of beans I had left for the dish, I moved the bowl to the other side of the island.  She screamed like most kids would if you took away their lollipop.  Losing interest, she went upstairs to watch the big kids play Wii.
I listened to "A Prairie Home Companion" on NPR as I slowly stirred my stock ladle-by-ladle into the risotto and poured my second glass of wine.  The dish took two hours from start to finish, but by the time I spooned it onto the shallow bowls, I was relaxed and happy.  It was exactly what I wanted- spring's best flavors set against a simple background of Romano cheese and creamy risotto- and some space to gather myself.
This recipe makes a lot of risotto.   It reheats very well.  It doesn't take much longer to scale up than scale down so I always scale things up.  You could easily halve the recipe to make the dish for a family of four.
Ingredients
For the produce
8-10 large artichokes
One produce bag full of fava beans (yields 4-5 cups of unshelled beans)
One bunch fresh asparagus
For the risotto
3 tablespoons extra-virgin olive oil
1 pound Arborio rice  Yes, it must be Arborio.  You'll likely find it near pastas or in the Italian aisle of your grocery store.
½ gallon (2 quarts or 8 cups) chicken stock, preferably homemade
1 ½ cups freshly grated Romano cheese
Kosher salt and pepper
3 tablespoons unsalted butter
Freshly grated Parmesan to serve
Instructions

Prepare the Stock
Bring the stock to a boil.  Cover and reduce heat to just keep hot while you prepare the produce.

Prepare the produce
Trim the asparagus and cut them on a severe bias into ½" thicknesses.  Set aside.
Shell, blanch, shock and peel the fava beans.
Trim and cut the artichokes into hearts that are cut into sixteenths (each quarter of a heart cut into four pie-wedges).
Steps 3 & 4 can be done while you're toasting the Arborio rice. In a pan over medium-high heat, sauté the artichoke hearts until cooked through.  Salt with kosher salt while they cook.  Set aside.
Do step 4 above with the asparagus.
Begin the risotto
In a deep 12" skillet or braiser, heat the olive oil over medium heat.
Add the risotto and stir to coat with the oil.  Allow to toast over medium heat.  You are looking for just the faintest bit of golden color on about 1/3 to ½ the grains.  Be patient and take care not to burn the grains.  It'll take about 5 minutes.
Begin adding the hot stock, 1-2 ladlefuls at a time.  Add another ladleful when you can drag your spoon across the bottom of the pan and leave a "dry" line on the pan bottom down the path that the spoon travels.
Pour a glass of wine and call a friend whom you haven't spoken with in a long time.  Continue to add stock, stirring very frequently.  This will take 30 minutes or more.  Begin tasting when you're about 2/3 through the stock.  I always boil a kettle of water just in case I run out of stock.  You can just use the water to finish the dish.
When there's just the tiniest bit of crunch left in the grain, add the fava beans.
When the rice is perfectly tender, add the asparagus, artichoke hearts, Romano and butter.  Stir to combine and warm through.  Taste for seasoning and adjust with salt and pepper.
Serve
Serve with freshly grated Parmesan on top.
Off Script…
You could easily add leeks and garlic to this dish.  Sauté the leeks and garlic until tender.  Add the Arborio and toast it with the leeks and garlic.

Print This Post