/?php include(TEMPLATEPATH."/breadcrumb.php");?> /?php if(function_exists('wp_print')) { print_link(); } ?>
Perfect Gifts for People You Barely Know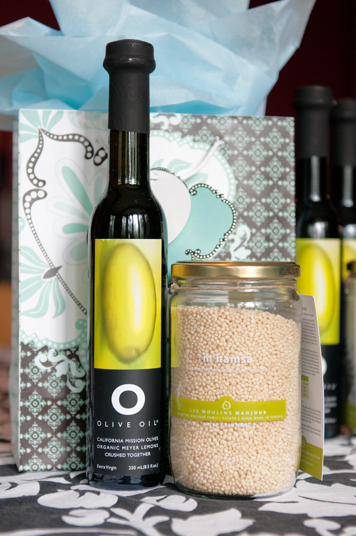 I can no more give a crappy gift than I can look you in the face and say, "No darling, you are rockin' that bikini!" whist thinking the strings of your bikini look more like cooking twine on a pork shoulder and your once-sexy tramp stamp reminds me of a Silly Putty newsprint transfer. That's lying. So is giving a crappy gift.
It's better to show up empty-handed to a dinner party than bring something cheap and thoughtless. For that matter, I'd rather you graciously show up empty-handed to my dinner party than bring me that packet of cheesy novelty cocktail napkins and the rhinestone-studded wine glass you got for being a top multi-level marketing achiever. I really won't notice your empty hands. I'll be annoyed at having to dispose of a lame gift.
The most intimidating challenge is choosing gifts for people whose personal tastes you simply don't know very well. My answer to such problems- as with all things- is food. Everyone must eat. Not sweets. Is there anything worse than those ubiquitous tins of crappy cookies or chocolate samplers during the Holidays? I'm talking about real food and real eating and everything that surrounds them.
The Queen Bee of the gift-giving challenge is the teacher gift. A good friend of mine was an elementary school teacher and used to get the most horrific pile of crap at the holidays. We'd have so much fun perusing the load of "World's Best Teacher" picture frames, scented candles and assorted hot-glued crafts. Feeling guilty for being so snarky, inevitably one of us would look at the pile and weakly offer, "It's the thought that counts…"  Uh-huh.
The modern solution to this problem is the gift card. The room mom collects cash at the beginning of the year and gives the teacher a card for one of his favorite places. This requires no thought on my part- which is convenient but defeats the purpose of the gift. A gift, in my estimation, should show some consideration by the giver. It should express the appreciation you feel for the receiver or the receiver's gesture toward you. If my gift is effortless, what purpose is it actually serving? It doesn't actually compensate the teacher in any way for all he or she has done. It also doesn't demonstrate my gratitude.
The image above is of the teacher's gifts I assembled for my kids' teachers this year. I gave them some of my favorite Tunisian couscous and a Meyer lemon flavored olive oil that I adore just as much. I enclosed the following message:
This meyer lemon infused olive oil and artisanal couscous are some of my favorite things. The oil is fantastic in salad dressing, for dipping bread, or for finishing vegetables. It's been a pantry staple for me for over ten years.

The couscous is a recent discovery. "How can couscous be that different?" you might ask. It just is. And honestly, I'm not really sure why.

I often use these two ingredients together for a quick, nutritious weeknight meal. Grill some vegetables- peppers, onions, asparagus, carrot slices, eggplant. Chop them up, toss them with the cooked couscous and some cooked lentils and finish it all off with a drizzle of the oil and a little squirt of fresh lemon. That's it. Serve it hot or cold.
The value of the two gifts plus the pretty bag was about $35. I chose these because I think they're distinctly delicious. They're also a little luxurious, pretty, versatile and conform to the demands of a wide variety of diets. They don't require fantastic cooking skills.
In the past, I've actually given high quality frozen steaks and fish to my kids' teachers. I've also given glass bottles of my favorite Mexican Vanilla with a jar of Saigon Cinnamon. Again, I wanted to impart a little indulgence and versatility. In those situations, I've known the teachers a bit better than I knew these, so I had more of a sense of who'd want two NY strip steaks and who'd prefer the halibut steaks. I also knew that none of those teachers had long commutes home that would risk defrosting the meat. We gave steaks to my kids' coaches and music teachers. We give steaks and fish to my husband's colleagues.
Some of the most thoughtful gifts I've ever received were simple gifts of food: a bag of assorted citrus from a friend visiting from California, a few kinds of paprika from a friend who visited Hungary, some lemon and orange extract and a bag of Saigon cinnamon from friends who'd recently taken a "culinary tour of Chicago" and stopped at The Spice House, vanilla from my mom when she visited Mexico, a few eggs from a friend's chickens. These gifts aren't pricey. They're just thoughtful, useful items that I wouldn't necessarily have picked up myself.
I keep a stash of glass-bottled vanilla and copies of one of my favorite, most practical cookbooks, "The New Best Recipe," on hand for last minute dinner-party gifts.
I've compiled a list of suggestions that might get your ideas flowing the next time you're searching for a thoughtful gift:
• Gilt Taste: Though it has caught a bit of flak for having some outlandishly priced items ($33 for a pint of finger limes. Really?), the site is tantalizing. Stick with the pantry section of the site, which has some really special offerings such as an Umbrian grain sampler, a spice blend set, olive oils, and a vanilla and chamomile maple syrup that made me downright lusty.
• Zingerman's: Famous for their Bacon of the Month club, Zingerman's is a collection of the finest, esoteric foods. Make someone smile with a jar of Luxardo Marasca Cherries (real Maraschino cherries), a jar of violet mustard, or a bottle of Agrumato Lemon Oil. The site is funky and playful with product knowledge and descriptions that take the fear out of buying something crazy like- say- violet mustard.
• The Spice House: I love this place. Their spices are simply beautiful. There's so much to love in their product selection. For simple gifts that would please almost anyone, they have a wonderful selection of boxed spice sets ranging in price from $20-50.
• Gourmet's Choice: This is where I get my steaks. For the holidays last year, Jim assembled and shipped beautiful gifts of 2" thick bone-in porterhouse steaks accompanied by some Campeche shrimp for my husband's colleagues.
Even if the recipient isn't a foodie, she has to eat. Her world is as likely filled with clutter as yours is, so she doesn't need you to run to the Hallmark store for a snowglobe. Give her something that will be a momentary pleasure in the moment and for years to come. I was introduced to Molino Real vanilla by a gift from my Mom upon her return from a Mexican vacation. My love affair with The Spice House and whole Saigon cinnamon bark came from a hostess gift. I remember the givers everytime I consider these treasured ingredients.

Print This Post