/?php include(TEMPLATEPATH."/breadcrumb.php");?> /?php if(function_exists('wp_print')) { print_link(); } ?>
Pan-Roasted Grouper with Provençal Vegetables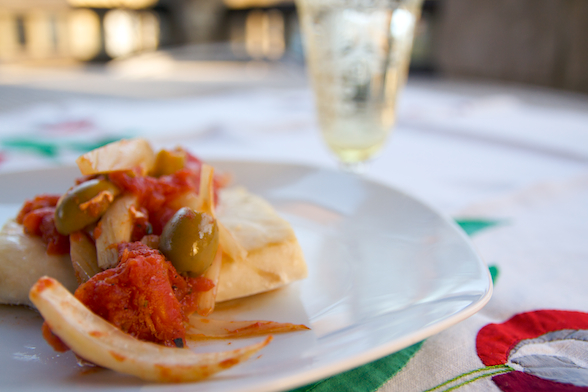 Adapted from The Best of Cooking Light
This is my favorite kind of recipe.  Elegant enough for a dinner party but simple enough for a weekday without skimping on nicely developed flavor.  It works equally with grouper, cod or halibut.  Snapper or salmon could be nice too.

Special Equipment: Broiler pan
Ingredients
Meat
4 6-ounce grouper filets (other firm-fleshed white fish can be substituted)
¼  teaspoon each salt and pepper
2 teaspoons olive oil
1 clove garlic, minced
Vegetables
2 cups thinly sliced fennel bulb (about one medium), fronds reserved as garnish
2 tablespoons fresh orange juice
1 28-ounce can diced tomatoes, drained
16 picholine or kalamata olives, pitted and chopped (Pre-pitted olives are mushy.  Buy a pitter and pit your own.
Instructions
Assemble the vegetables
Preheat oven to 450˚.
Combine the fennel, orange juice, tomatoes and olives.  Add ¼ teaspoon salt and ¼ teaspoon pepper.  Toss well.
Spoon mixture into a broiler pan coated with cooking oil.  Bake for 10 minutes, stirring once.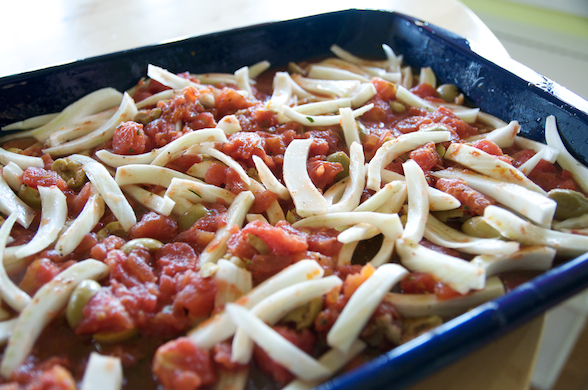 Prepare and bake the fish
Combine remaining salt and pepper, oil, and garlic.  Brush evenly over fish.  Place fish on broiler pan rack which has been coated with oil.
Place boiler pan rack over par-cooked vegetables.
Bake for 10 minutes or until fish flakes easily when tested with a fork.
Serve
Serve fish over a bed of the vegetable mixture.  Garnish with chopped fennel fronds.
Off script…
Add fresh thyme, parsley or other herbs to second cooking of vegetables.  Add ground culinary lavender to vegetables or season fish with lavender salt.

Print This Post