/?php include(TEMPLATEPATH."/breadcrumb.php");?> /?php if(function_exists('wp_print')) { print_link(); } ?>
Mustard and Panko Crusted Pork Chops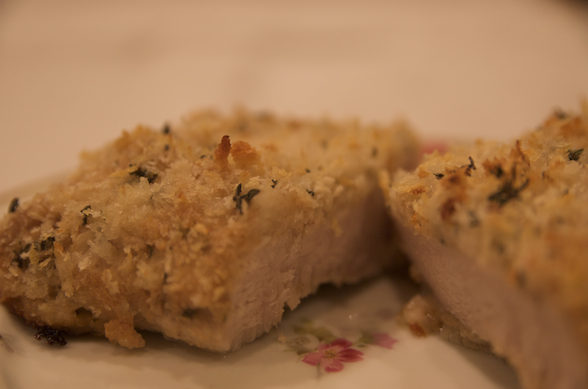 Oh, you are SO going to love the simplicity of this dish!  It smells absolutely amazing while it cooks- perfuming the house with the fragrance of mustard and thyme.  It is also delicious, of course.

The coating is based on a rabbit recipe from Saveur magazine.  I loved the coating, but the rabbit proved too easy to overcook in the oven- ending up with the tenderness of a rubberized dog chew toy  (There's a reason why rabbit is usually braised.).  It was one of the few times each year that a recipe goes so wrong that we declare it inedible.  I nonetheless realized that I wanted to try this coating on pork, so it wasn't a total loss after all.
Ingredients
For the meat
Four pork chops, about ¾" thick
Brine solution (optional but recommended)
For the coating
¼ cup butter, melted
½ cup Dijon mustard
2 cups panko bread crumbs
¼ cup thyme leaves, chopped
Instructions
Prepare the pork
Brine the pork for about 2 hours.  Remove from brine and pat dry.
Cut diagonal slices through the fat ring around the chop, taking care not to cut through into the meat.  This prevents the chop from curling up around the edges while baking.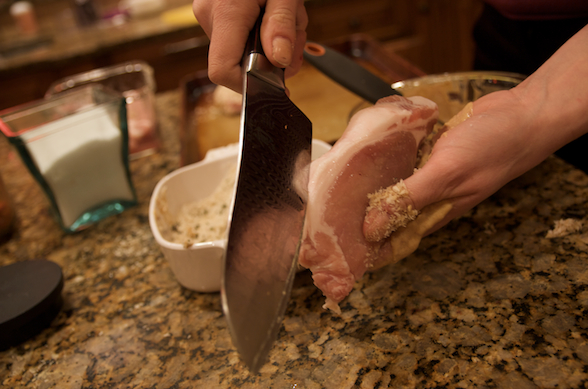 Coat the pork
Preheat the oven to 425-degrees.
Mix the melted butter and mustard in a small bowl.  Mix the panko and thyme in a shallow dish that is wide enough to accommodate the largest chop.
Using a pastry brush and doing one chop at a time, coat each chop in a thin layer of mustard.  Then place each chop in the panko mixture, pressing to coat the panko all over the chop.
Place the chop on a rimmed baking sheet coated lightly with cooking spray or oil.
Bake chops
Bake the chops 20-25 minutes.  Chops are done when centers are springy, but not tough when poked with a finger.  You want them to have just a bit of give. Coating should be golden brown at this point.
Off Script…
Try this on fish, switching dill for the thyme.  This would also be great on a roasted tenderloin.

Print This Post