/?php include(TEMPLATEPATH."/breadcrumb.php");?> /?php if(function_exists('wp_print')) { print_link(); } ?>
Minestrone Soup: The Reshoot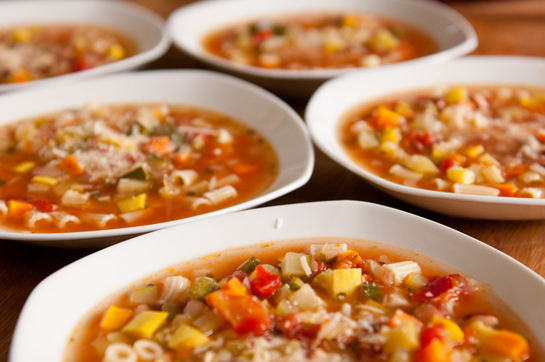 Adapted from Summer Minestrone with Pesto recipe from Bon Appetit, August 2004
When we lived in Greenwich, we had a regular Sunday night ritual of going to a local pizza place, Bella Nonna, which had a variety of Italian dishes that were very tasty and wonderful, ebullient Italian service.  They made a killer minestrone with vegetables that were never overcooked, pasta that was perfectly al dente and a fresh, vegetal flavor.  When we moved to Chicago, I yearned for that minestrone and spent about 6 months working on it until I got it.  This is a fantastic way to use the bounty of the summer garden.

You can use all vegetable or all chicken broth, but I like the way the combination is hearty without being meaty.  You could also simply use water and the vegetables would do a good job of giving you enough flavor anyway.
Ingredients
1 C ditalini pasta
3T Olive oil
1 med onion, chopped
1 clove garlic, minced
3C chicken broth
3C vegetable broth
2 medium carrots, peeled and cut into ½ inch pieces
2 celery stalks, cut into ½ inch pieces
½ pound green beans, trimmed and cut into 1 inch pieces
1 15 ounce can diced tomatoes
1 15 ounce can cannellini beans, drained
3 small zucchini, cut into ½ inch cubes
2 C fresh spinach (not baby) or turnip or mustard greens, chopped OR 2 cups loosely packed kale leaves, washed and torn into 1 inch square pieces
1t each fresh parsley, basil and oregano or ½t each dried
Fresh Parmesan, to taste.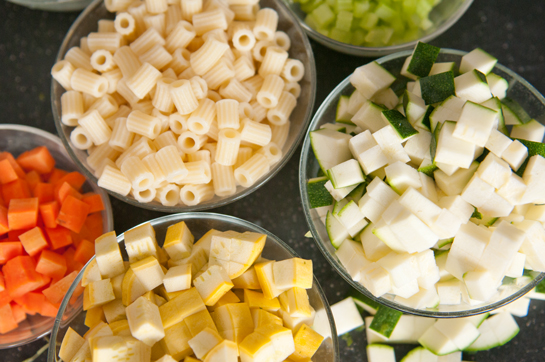 Instructions
Cook pasta according to package directions.  Drain and rinse with cold water.  Reserve until needed.  Cooking pasta separately leaves you with the option to save or freeze leftover soup.  If you freeze/save leftovers with the pasta in them, the pasta will turn to mush.  You can buy

that

in a can.
In a medium stockpot, sauté onion and garlic until translucent.
Add broths, carrots and celery and bring to a boil.  The amount of liquid is going to seem paltry.  Fret not.  The vegetables will contribute their own liquid to this.  Its actually amazing that so little liquid can yield so much soup.  Also, you are adding the carrots and celery first because they take longer to cook than the other vegetables.
Reduce heat to a low simmer, add green beans, tomatoes and beans. Simmer about about 3 minutes.
Add zucchini. If using kale leaves, add these now as well. Simmer about 15-18 minutes or until all veggies are  cooked.  Add pasta, spinach (if using) and herbs. Turn off heat and serve about 5 minutes later.
Serve with fresh Parmesan.  Don't want to be unpleasant, but really, you must keep a block (not pre-grated) of Parmagiano Reggiano in your deli drawer.  For nostalgia's sake, you may indulge your childhood memories with the green can, but when you're really cooking, don't even think about it.  Well sealed, authentic Parmesan keeps forever.  I'd no more go a day in the kitchen without this than without salt.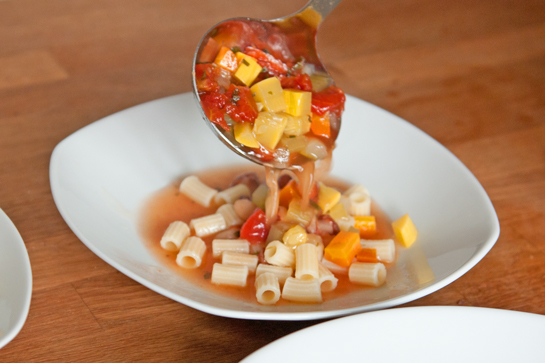 Off Script
Add a parmesan rind to broth while cooking to add flavor (the hard inedible part).
Add a dollop of pesto to the finished soup.
Add tiny little meatballs of Italian sausage (peanut M&M-sized).  You can pre-cook these between sturdy paper towels in the microwave, if you wish.

Print This Post