/?php include(TEMPLATEPATH."/breadcrumb.php");?> /?php if(function_exists('wp_print')) { print_link(); } ?>
Mediterranean Grilled Octopus Salad
Nothing this delicious has ever before emerged from my kitchen. You should understand that before you read on.
This also happens to be the most kid-unfriendly dinner I have ever made. It is a tragic reality.  The chasm is as impossible as the obviously ill-fated passions of Julia Roberts and Lyle Lovett.
I am usually irritated by requests for "kid-friendly" fare. What the hell is that, anyway? Junk-food made less unhealthy? Healthy food made enticing by giving it toy-like styling? Food that's bland and unchallenging? Everyone means something different by that and, frankly, I object to the idea that any good food isn't "kid friendly." But when it comes to octopus salad, I get it. The most adventurous American kid is going to be pretty horrified. I have seen little Japanese children rejoice over "tako" on a stick the way American children would celebrate fried pizza on a stick at the state fair. That's not happening with our kids.
My octopus salad started in my email inbox.  I receive a daily-food writing digest from the Culinary Institute of America called the "Pro Chef Smart Brief."  I occasionally peruse its headlines to see if it contains anything captivating. This particular issue had an article about tenderizing octopus. Three different chefs talked about all kinds of seemingly goofy ways to accomplish this goal- marinate it with old wine corks or tumble it in a clothes dryer. Anyway, it got my mouth watering. I've enjoyed octopus at fine restaurants many times but never considered what went into preparing it.
On Monday morning last week, I'd raced to Whole Foods to pick up the ingredients for a private lesson I was teaching at noon. They usually have nice fish, so I sauntered up to the display to shop for myself. None of the day's catch excited me. I spied some small octopi in the corner of the case. Hmmm. The octopus article came back to me. I'd never thought about making octopus at home. I briefly hesitated.  Could I do it? Why not?
Thus began three days of anxiety and trauma for my children. I forewarned them we would be having octopus for dinner that week. I wanted to talk about it- why they perceive something as "gross" that they've never actually tasted. The two littlest were as concerned as they were curious. My 9-year-old was mortified. She was downright angry and rebellious about it. If she'd of been a little nicer, I might have felt a little guilty.
I researched recipes online- looking as much for courage as inspiration. When I stumbled on an article written by Mark Bittman on the subject, I had the confidence I needed to move forward.
I never anticipated that my little octopi would be featured on readyprepgo.com. I wasn't sure the dish would turn out at all, much less be "post-worthy." This is why the prep shots were actually shot on my iPhone, just for giggles.  But it was, seriously, one of the best things I've ever made.  I took away an appreciation for the silly boundaries I set between foods I'll order in a restaurant and foods I can enjoy at home. I had some important conversations with my kids about prejudice and culture and gratitude.
I also suspect I've raised the bar on the kids' gross-out factor.  Next time I serve a whole fish to a table of recoiling children, I can always remind them that we could have octopus next week instead…
Ingredients
For the braise
1 pound of baby octopus, cleaned, heads on In my research, I learned that the process of freezing and thawing facilitates the tenderization of the octopus. I also figured out that the heads contribute to the flavor of the braising liquid, though they are a bit tough and taste more strongly than the tentacles. This is why I left them on for the braise and then discarded them.
6 cups water
1 large carrot, peeled and chopped (about ½ cup)
1 large stalk celery, chopped (about ½ cup)
1 small yellow onion, chopped (about 2/3 cup)
3 sprigs thyme
1 small sprig rosemary
1 bayleaf
8 peppercorns
1 teaspoon kosher salt
For the Marinade
2 tablespoons extra-virgin olive oil
juice of ½ large lemon
1 heaping teaspoon fresh oregano, minced
1 large clove garlic
salt & pepper
For the Salad
3 cups cooked couscous I adore M'hamsa Tunisian Couscous.  Available at Whole Foods and online for about $9.
1/3 cup chickpeas, fresh- if available Realistically, you're probably using cooked dried chickpeas. I just happened to score some fresh ones on my Whole Foods trip. Canned chickpeas will be salty and mushy. I'd avoid them.
½ cup peas Frozen are fine
1/4 cup kalamata olives, pitted
1/4 cup sundried tomatoes, julienned (sliced into thin strips)
2 oz. dry Portugese chorizo, chopped You can use any sort of dry sausage (doesn't require refrigeration) that's got some heat to it.
1 ½ tablespoons fresh basil, finely chopped
Juice of 1/4 lemon
1 tablespoon highest quality extra-virgin olive oil
3 cups spinach, watercress or salad greens
Shaved Parmagiano-Reggiano, to taste
Instructions
Braise the Octopi
1. Add the vegetables to the water in a small stockpot.
2. Bring the water to a boil, reduce heat to a low simmer and add your octopi.
3. Simmer for 45 minutes to an hour. Test for doneness first on the smallest of your octopi, picking one up with tongs and piercing the center with a skewer or meat thermometer. Mark's said that you want to feel the meat yield like a cooked potato, offering little resistance.  He was right.
4. Remove the smallest octopi first, testing larger octopi before removing them.
5. You may refrigerate them overnight or proceed to marinate.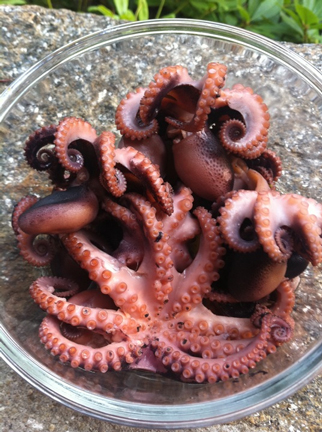 Marinate the Octopi
1. Remove the heads of the octopi.
2. Combine the marinade ingredients.
3. Put the octopi and marinade together in a zip-top bag. Push the air from the bag before sealing.
4. Marinate for 2 hours, turning the bag frequently to ensure contact with the marinade.
Grill the Octopi
1. Preheat a grill to high heat.
2. Remove the octopi from the marinade.
3. Quickly grill each side of the octopi over very high heat. You are not cooking them. Rather, you just want to add grill marks and grilled flavor to them. You're probably looking at no more than 30-seconds each side on a raging hot grill.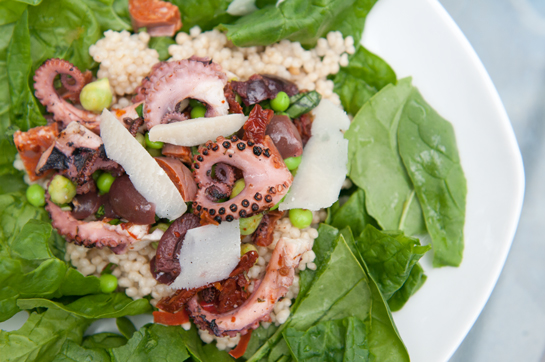 Assemble the Salad
1. Cut each octopus into quarters- smaller if necessary- to create bite-sized pieces.
2. Toss the octopus with the chickpeas, peas, chorizo, and basil. Drizzle the lemon and oil over the salad and toss to combine. Season with salt and pepper to taste.
3. Scatter the greens around the edges of a pasta or salad bowl, mound the couscous in the center, and top the couscous with the salad. Garnish with parmesan shavings.

Print This Post