/?php include(TEMPLATEPATH."/breadcrumb.php");?> /?php if(function_exists('wp_print')) { print_link(); } ?>
Meal Planning for the Organizationally Challenged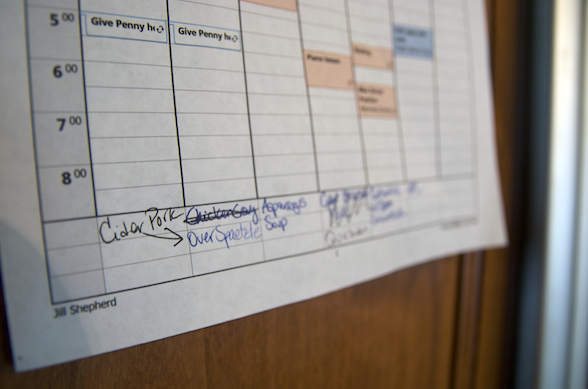 Somehow you've failed to launch.  You know the difference between a boil and a simmer.  Your home is a fruit-leather-free zone.  You've got a freezer filled with high-quality meat and shelves of cookbooks. But there will be no dishes to do tonight.  Dinner will be prepared in someone else's kitchen and conveyed in Styrofoam.  You'll endure that same old internal dialog again.
"Gosh, I should have made something with that kale I bought last week." Its already composting in your fridge, but you'll be in denial until it actually liquefies.
"I know that eating at this Chinese place is making me fat.  That's it.  I'll order something healthier next week."  We both know that even the broccoli stir-fry is loaded with salt, sugar and fat.
"If only we weren't so busy, I'd actually be able to cook."  Uh huh.  Those pioneer women who had to butcher their own meat and feed their own chickens were so less busy than you.
What keeps going wrong? The odds are very high that you haven't learned the practice of meal planning.  Meal planning is nothing more than looking ahead, making a plan and executing.  It is flexible- taking into account the fact that the best of plans are easily dashed by a sick kid or rescheduled meeting.  It is about being equipped, realistic and hopeful. Before you get all in my face, accusing me of being one of those hyper-organized, control-freak moms, I need to put this out there:  I am anything but.  I just hate eating crap and am sufficiently motivated by that to have this area of my life pulled together.  Here's a visual of how well-ordered some other areas of my life are.
Ingredient-Driven vs. Recipe-Driven Meal Planning I have two modes of meal planning:  ingredient-driven and recipe-driven.  The farmer's market period is my ingredient-driven season.  The Hinsdale Farmer's Market is held three blocks from my house on Mondays from June through October.  We go first thing in the morning, take a look at what's fresh, and then plan dishes around that.  My thought process might go like this. Okay, we're going up to Michigan Friday afternoon so I really only need four dinners.  The kids have piano on Wednesday at 5 and ice-skating on Thursday at 5 so those need to be make-aheads.  The asparagus looks amazing.  We could do Cream of Asparagus soup on Thursday with some crusty bread (add that to the grocery list).  Oooh, pea shoots!  I could make that shrimp and pea shoot soup on Monday or Tuesday and- ooh, the mushroom man has morels- so I could do risotto with asparagus and morels, too.  Hmm.  That leaves one more make-ahead.  We need something protein heavy.  Steve has a gorgeous pork loin over there that I could roast while we're at piano [I have an integrated meat thermometer that will turn my oven off when the meat reaches a pre-set temperature] and I could serve that with some roasted potatoes and asparagus with lemon vinaigrette.  Done. I'm channeling my anticipation of spring asparagus here.  In June, you will have so many different things to choose from. I can get away with this kind of improvisation because I already have good knowledge of how to cook- though you don't have to be a culinary expert to do it.  Until you've had good experience with sautéing, roasting, making soups, pastas, etc, stick with the recipe-driven approach.  What'll eventually happen is that you'll identify the potential of different ingredients in the recipes you've made before.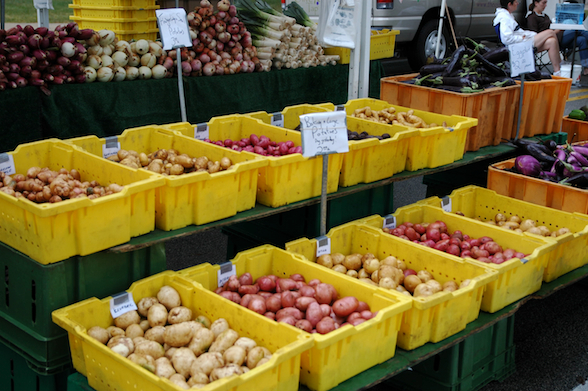 The Recipe-driven Approach During the Farmer's Market off-season I shift into recipe-driven gear.  This is a time of playful learning and exploration.  I do a lot of ethnic food.  I play with technique a lot.  I find myself obsessed with newly discovered ingredients:  spices, preserved lemons, beans, exotic grains.  Since the available produce is less than inspiring- I look elsewhere for my joy. My recipe-driven meal plan depends on my upcoming schedule and mood on Monday morning.  Am I tired and overwhelmed?  I'll probably stick with what's tried and true.  Am I feeling blah and bored?  Well then, we'll probably keep playing with Moroccan tagines and deep-frying this week.  Are my jeans a bit snug this morning?  Let's take the carbs down a notch. I have a clipboard of recipes for the week that I keep on my counter.  I don't know about you, but when my life gets hectic, little barriers can seem massive to me.  Fishing for a recipe- "Did I file that under 'soup' or under 'chicken'?"- might actually mean the difference between a home-cooked meal and pulling up the Chipotle app on my iPhone.  I pull from my notebooks the recipes I already have and want to make and put them on the clipboard.
Choosing New Recipes For new recipes, I keep my search extremely simple.  So many of my students get so bogged down when looking for new recipes.  Let me break this all down for you:
If you make only one new recipe a week, you will have made 52 new recipes this year.
No matter how much you obsess- give it 2 minutes or give it an hour- the odds are extremely high that at least one person won't be fond of it.  Even if you find a recipe that doesn't have any "red flag" ingredients in it, someone is very likely to disapprove of its presentation, texture or something else.  Choose what YOU want to make and eat.  It's the least you can do for yourself.
Again, no matter how much you obsess, your new recipes will fall into the following categories:

20% are great and you can't wait to make it again
70% are good, and you might or might not make them again
10% are kind of on the yucky side.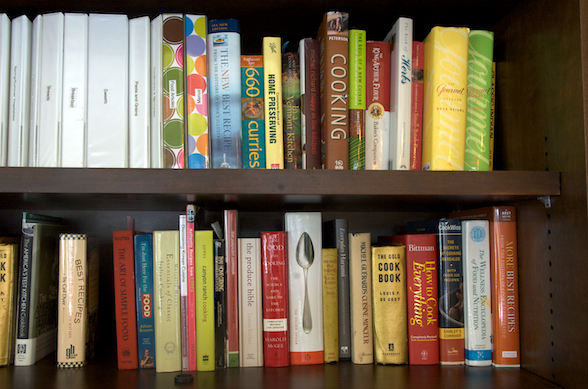 Making one new recipe a week, you'll end up with about 13 new recipes that you love this year.  You'll also have made 5 recipes that were pretty bad.  Who cares?  You fed your family that night. So how do I choose my new recipes?  The process lasts about 5 to 10 minutes.  It is often this simple:
I pull a book out of my cookbook library, open it up, and make the first three dishes that look even remotely appealing.
I see my new copy of a cooking mag that came in the mail, open it up and make the first three meals that look- you guessed it- even remotely appealing.
I consider an ingredient or technique that I'm interested in playing with, Google it, and make the first three-  yadda, yadda, yadda.
Get the idea? I have friends with older kids who have the kids take turns choosing a new recipe for the week.  It engages them all in the process and gets great conversations going about what they like or don't like in food.  It begins the process of teaching them how to cook by getting them to pay attention to the qualities that make a dish special. I print or photocopy new recipes and add them to the clipboard.  Now I just have to make sure I have the ingredients before I head off to the grocery store.  I'll post about managing your supplies and grocery shopping soon.  I promise. Be Flexible! Finally, I want to remind you that the best plans are very flexible.  If I can't make that dish tonight, I can make it this weekend.  If I made it but we didn't have a chance to eat it because we spent the evening in the ER, then I've got dinner made for tomorrow night.  If my girlfriend has a nervous breakdown and spends all afternoon sobbing on my couch and I don't have time to cook- well, the odds are high that I've got something usable in my freezer stash.  Life isn't perfect or tidy.
Meal Planning in Summary:
Take a look at your schedule.
Decide how many meals you should plan.
Pull any recipes you need and find one good place to stash them.
Make up your shopping list and get what you need.
Every day, think about what time you'll need to get dinner started to get it on the table by dinnertime.

Print This Post