/?php include(TEMPLATEPATH."/breadcrumb.php");?> /?php if(function_exists('wp_print')) { print_link(); } ?>
Love-ya Lasagna
I'm not sure that I've ever ordered it in a restaurant- or that I ever would- but lasagna is one of my favorite foods. It isn't about the sweet/savory taste and cacophony of textures, though a bite of great lasagna is incomparably satisfying. It is a love thing. I've yet to discover another food that captures affection on a fork the way that lasagna does.
Lasagna is my go-to food as an offering to other people. They may have just had a baby, lost a loved one or be experiencing health issues. When I need to say "I love you and want the best for you," I forgo cheesy cards in favor of a cheesy lasagna.
Lasagna's job qualifications include:
• Lasagna takes time to make. Even if the receiver doesn't appreciate that, it makes me feel a little better as I pour myself into the effort.
• It can be fully cooked and reheated without compromising its quality. I love a reheated, half-eaten lasagna. I like the crunchy-chewy thing that happens on the edges when it's reheated.
• It is portable. I'm never without a package of aluminum lasagna pans. The last thing I want to do to anyone is burden them with having to return the dish.
• It is equally delicious whether you're making it for carnivores or vegetarians.
• It has no seasonality. It feels just as right in June as it does in February.
• Its sauciness allows it to be frozen and reheated with little ill-effect. It feels great to offer two or even three meals in one pan. This quality also benefits the giver with the option to plan ahead. You can make it on a quiet day in anticipation of your cousin's soon-to-arrive baby.
• How many people do you know who don't like lasagna?
The best lasagna derives its greatness from the quality of its ingredients. Keep the ingredients simple but of the best quality you can reasonably afford. Be restrained in the amount of each ingredient on each layer or your lasagna will slide apart when you try to cut and serve it. Finally, after all the work you put into your lasagna, the last thing you want to have is a lasagna slice that sits in a pool of reddish water. Soggy lasagna is icky. Be vigilant to remove as much excess water as possible from all of your lasagna ingredients.
As I write this, I fear the possibility that everyone I know will see the wisdom of this and every family who has a baby or experiences a tragedy will find themselves in the middle of a lagagna-fest.
I do believe that wouldn't be such a terrible outcome.
Ingredients
One recipe of basic pasta dough or one box of lasagna noodles
2 cups of ricotta The hand-packed, whole milk ricotta you can get from the deli is vastly superior to the stuff you can get in the refrigerated section of your grocery store. The same store will usually carry both options. Your lasagna will only be as good as your ricotta.
About 4 cups of Elemental Marinara or best quality store-bought marinara Don't do anything fancy if you're doing store-bought. You want these flavors to meld, not taste like an assertive mushroom and green pepper flavored sauce. Simple is better here.
3-5 cups of filler See the options below
4 cups of shredded part-skim mozzarella I'm actually encouraging you to buy the less-expensive ingredient! Fresh mozzarella just has too much water in it. The flavor is great, but soggy is not.
Special Equipment
An 8 ½" x 11" disposable aluminum lasagna pan (about 2" deep)
Instructions
Prepare the noodles
1. If using homemade, make the dough, allowing about 30 minutes for it to rest before rolling. I roll out a bit at a time as I need it, however, you could crank it all out and let it dry a bit on the counter while you prepare the other ingredients. I roll my pasta to a #5 thickness. You don't want to get too thin or else they're too insubstantial to be appreciated in the dish.
2. If using boxed noodles, cook noodles according to package directions. Rinse cooked noodles in cold water and toss them lightly with olive oil to keep them from sticking to together.
Assemble the lasagna
1. Drizzle a very small amount of sauce into the lasagna pan and spread it around with the back of a spoon. This sauce just serves to keep the bottom layer of noodles from sticking to the pan.
2. Lay down a sheet of noodles. The homemade noodles won't always roll out with perfect ends and edges. Just patchwork them together so they make a single layer.
3. Using your hands, drop the ricotta over the surface of the noodle. Some ricotta is dryer and more crumbly, some has more fat and has a creamier consistency. For the creamier version, I use a small scoop to drop dollops over the surface of the layer and then distribute them by smooshing them down a bit when I add the next layer of noodle.
4. Now add a layer of filler, then sauce, then top with mozzarella. Try to just "drop" things in more or less the right place. Trying to spread them out evenly like peanut butter on bread can tear or displace the noodles.
5. Add two more layers of noodles and ingredients in the same order, pressing very lightly as you add each noodles layer to push out air and even out each layer. The order goes like this: sauce, noodle, ingredients, noodle, ingredients, noodle, ingredients, noodle, sauce and mozzarella.
6. The top layer of noodles will be covered only with a light layer of sauce and a thicker layer of mozzarella, which prevents that top layer of noodles from drying out in the oven.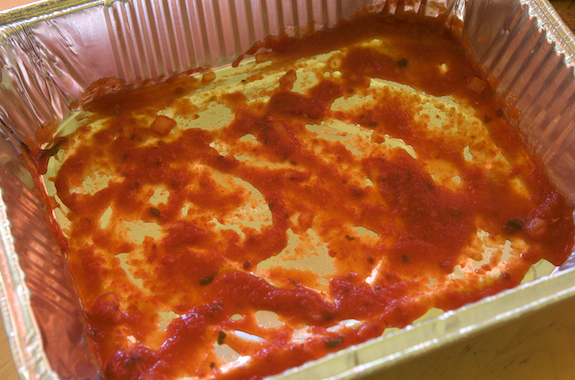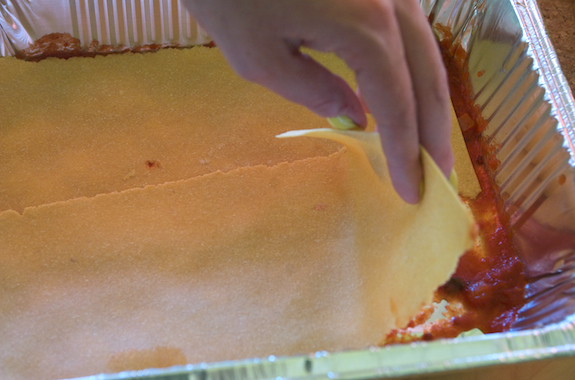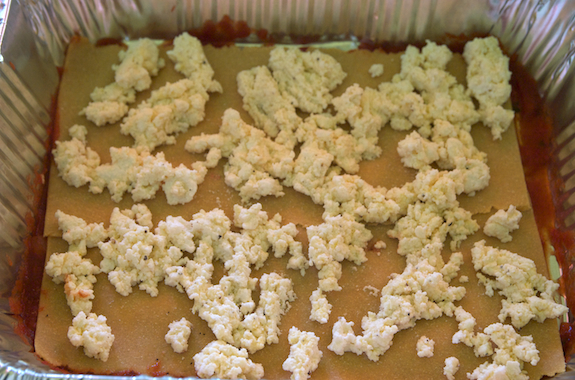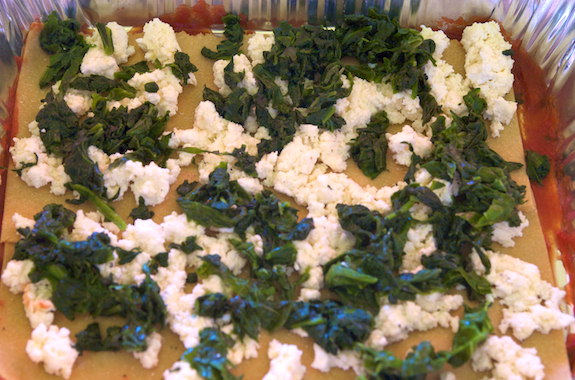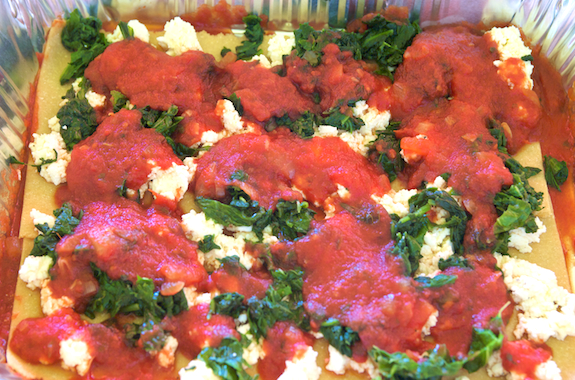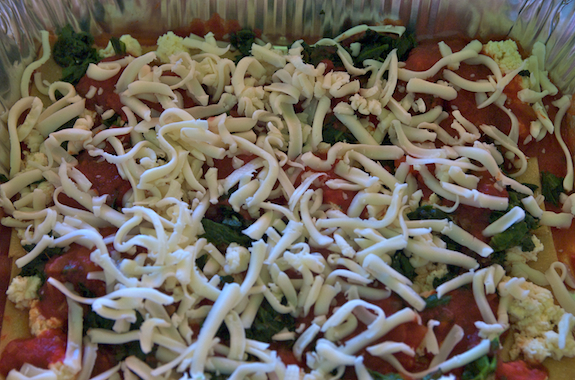 Bake the lasagna
1. Bake the lasagna for about 75 minutes in a 425-degree oven. Keep on eye on the top layer of cheese and when it gets to a perfect brownness, cover it loosely with aluminum foil that has been brushed lightly with oil or sprayed with cooking spray.
2. Test for doneness by inserting a dinner knife into the center of the lasagna and letting it sit for 5-10 seconds. Remove the knife and touch the tip that was in the lasagna to your lip. It should be hot enough to be uncomfortable after a few seconds.
3. Let the lasagna rest at least 10 minutes before serving. When it's piping hot, the lasagna is much more apt to slide apart.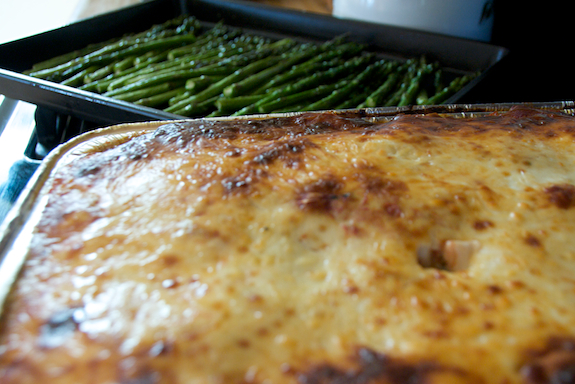 Filler Options
Meat lasagna: Sweat one large chopped onion over low heat until translucent. Think of "sweating" as cooking something slowly without browning it. Add and brown 1 ½ pounds butcher's meatloaf mix (a combo of pork, veal and beef) or ¾ pound each of ground pork and veal). Try to break the meat into the smallest chunks possible as it cooks. Drain well. Add the meat to the marinara called for in the recipe and use together as the marinara is used in the recipe.
Popeye Lasagna: This lasagna will be enjoyed even by families who might be a little squeamish about greens. You can use just about any greens you like, alone or in combination. While spinach is the obvious choice, kale or mustard greens taste fantastic, too.
• Trim and wash 2-3 bunches of greens. You should have 10-12 cups of greens or enough to heap a 12-inch skillet.
• Finely mince or paste 2 large garlic cloves.
• Over low heat in a 12-inch skillet, sauté the garlic lightly in a bit of olive oil- just until it softens and becomes fragrant.
• Add 2 big handfuls of the greens. Toss together with oil and garlic until combined. Tongs are the best tool for this job.
• Raise the heat to medium-high, add the remaining greens and toss to combine.
• The greens will give off lots of water as they cook. Keep cooking them until all of this water is evaporated off and the pan looks pretty dry.
• Remove the greens to a fine-mesh sieve or colander lined with a clean cotton dish towel. Press firmly on the greens to remove residual water.
Summer Bounty Lasagna: Toss about 6 cups of ½" diced summer squash lightly in olive oil. Place them on a rimmed sheet pan in a single layer and season liberally with kosher salt. Roast squash in a 450-degree oven for about 20 minutes- until they are soft and have lost about 1/3 of their volume to evaporation. While the squash cook, cut two bell peppers into large slices to be placed skin-side up under the broiler until their skins are totally blackened. Place the blackened peppers into a bowl and cover for about 5 minutes. Gently wipe off their skins and cut them into uniform ½" pieces. Mix all vegetables together and combine with marinara to be used like the sauce in the basic lasagna recipe.
You could also substitute some of the squash for mushrooms or eggplant. Just take great care to cook out as much water as possible.

Print This Post