/?php include(TEMPLATEPATH."/breadcrumb.php");?> /?php if(function_exists('wp_print')) { print_link(); } ?>
Kale Chips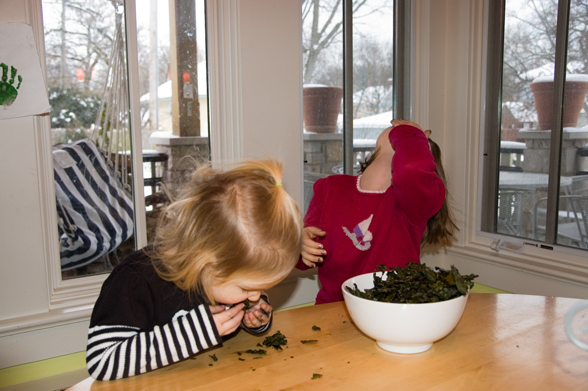 Really? I mean, really? KALE CHIPS?!?
Yup. This is not like that recipe that the health nut mom with the hemp diaper bag gave you that you can only bring yourself to eat because they're good for you. Kale chips are so good you'd want to eat 'em even if they weren't good for you.  I was a skeptic myself until Kyle demonstrated these in the greens class. They have a melt-in-your-mouth quality that you could never imagine you'd get from a hearty green. Use lacinato or curly kale. It is really lovely to use a combo of red and green curly kale.
How great would you feel sending your kid to school with kale chips to accompany his sandwich? I suppose that its possible that the other kids in the lunchroom might give him 20 lashes with their fruit leather for having such a healthy snack- unless he can get them to try it.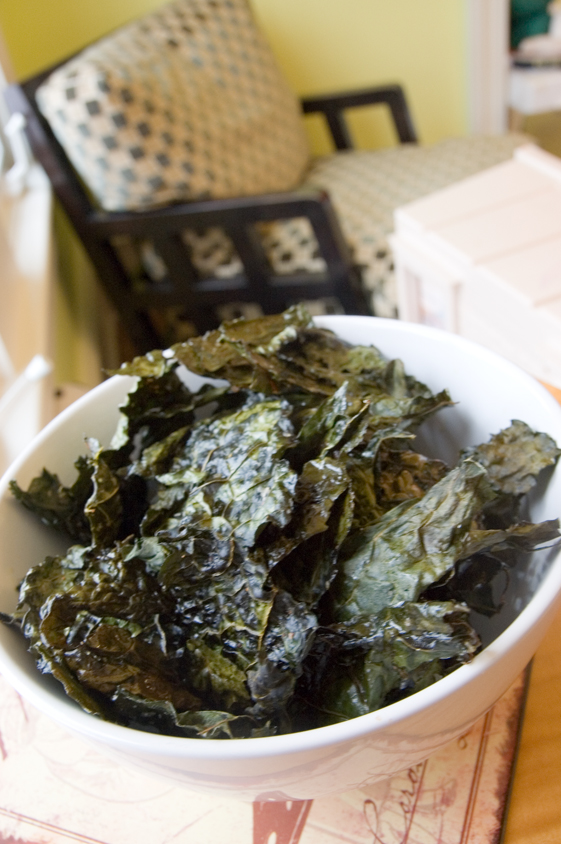 Ingredients
One bunch kale, washed and dried
Olive oil
Kosher salt
Instructions
1. Preheat the oven to 400-degrees.
2. Tear the leaves into pieces, discarding the center stem.
3. Toss lightly with olive oil. A great way to do this is to pour the oil onto your hands and then toss the leaves. This keeps you from accidentally adding too much oil. The large surface area of your hand is also a great way to distribute the oil evenly and quickly.
4. Season with salt.
5. Lay the leaves out in a shallow layer on a rimmed baking sheet. Bake for about 12 minutes, or until the leaves become dry and crisp.
Off Script…
Instead of kosher salt, use sea salt or flavored salts such as smoked salt or infused salts. Shichi-no-Togarashi seasoning- a Japanese seasoning available at most Asian groceries- offers a spicy, citrusy kick.

Print This Post