/?php include(TEMPLATEPATH."/breadcrumb.php");?> /?php if(function_exists('wp_print')) { print_link(); } ?>
Hummus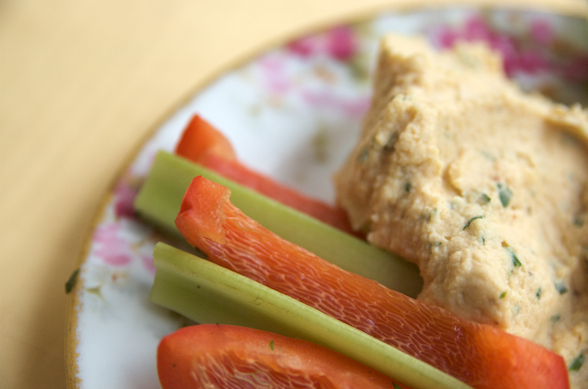 Based on Jane Brody's recipe from Good Food Gourmet
I'm not a big Oprah watcher these days, but there was nothing on TV last week and I happened to have it on Tivo.  She had Queen Rania of Jordan on the show to discuss her new children's book.  The book uses an incident from her childhood to illustrate the importance of being open to people who are different.  In the story as it happened in her childhood, she was eating a Hummus sandwich and another girl was eating a PB&J.  Each girl learned that the other girl's sandwich was tastier than she imagined and world peace was initiated.
That's all lovely, but all I could think was, "Hummus!  Why has it been so long since I've made hummus?"  Guess what I made for lunch the next day.
Hummus has become rather ubiquitious in the last decade and for good reason.  It is not only delicious, but incredibly versatile at adding flavor (and nutrition!) to so many foods.  It makes me cringe when I see folks spending $10 for a big tub of it at my local warehouse club.  It is so ridiculously easy, and cheap, to make at home.

Keep it on hand for dipping veggies.  It is also amazing spread on sandwiches.  Jazz up ho-hum grilled cheese by spreading a little hummus on the bread before grilling (take it up one more notch and use smoked cheddar).  Make a super healthy summer supper by making grilled veggie paninis with grilled summer squash and roasted red peppers with hummus and cheese.  In a pinch, thin it with a little more lemon juice and some olive oil and use it as a marinade for chicken or fish.
This can be also be made in batches in a standard blender.  I actually make it in a bowl with my immersion blender.  I hate cleaning the food processor.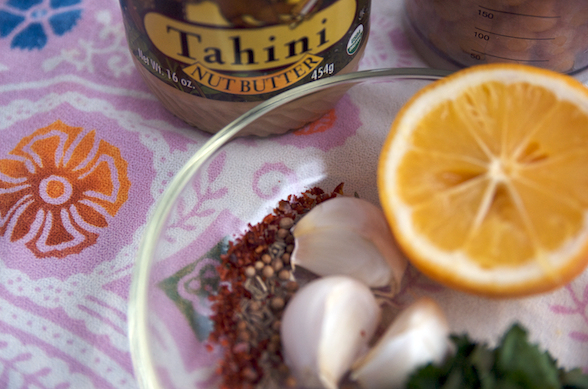 Ingredients
One 15-oz can cooked chickpeas (a.k.a garbanzo beans), drained
¼ cup tahini (sesame paste), this should be readily available in the ethnic section of any large supermarket
¼ cup lemon juice (approximately the juice of one lemon)
3 large cloves of garlic, peeled and crushed
½ teaspoon ground coriander
¼ teaspoon cumin
¼ teaspoon paprika
Dash cayenne
Optional
¼ cup minced scallion
2 tablespoons minced fresh parsley (for garnish or mix-in)
Instructions
In a food processor, process the chickpeas, tahini and lemon juice until the mixture reaches the consistency of a coarse paste.
Add the garlic, coriander, cumin, paprika and cayenne and process the ingredients again to combine them thoroughly.  Transfer the hummus to a bowl and stir in the scallions, if desired.
Keep refrigerated for up to one week.  Garnish with the parsley upon serving.

Print This Post