/?php include(TEMPLATEPATH."/breadcrumb.php");?> /?php if(function_exists('wp_print')) { print_link(); } ?>
Elemental Marinara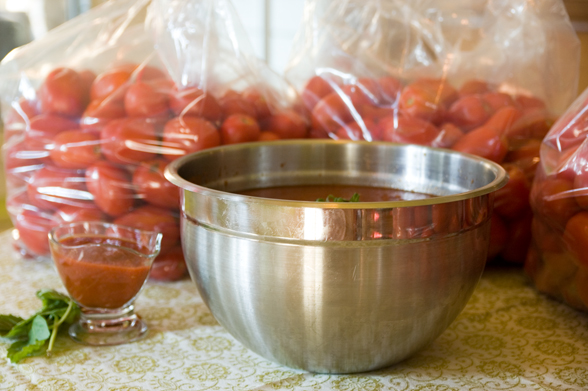 I love the easy quality of this sauce.  It is simple to make and pairs with everything.  Because I haven't added any really assertive flavors, I always have the option of adding onion or roasted garlic or mushrooms or olives later.  I make this in big batches and freeze it in two and three cup portions in vacuum-sealed bags.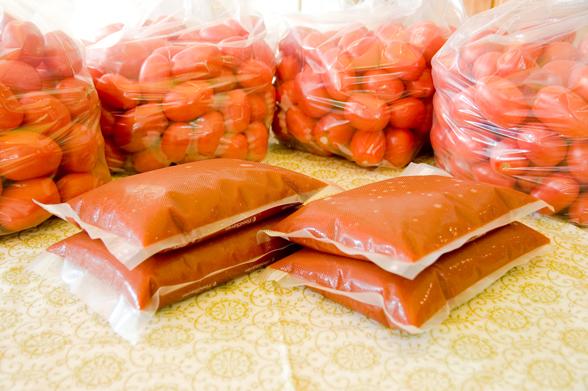 It goes from frozen to warmed in the amount of time it takes to make dried pasta.  I just place the vacuum sealer bag in simmering water.
A half bushel of tomatoes is enough to fill a large paper shopping bag as full as it'll go.  You can make this using two regular sized pasta pots, one pasta pot and a slow cooker, or one large stock pot.
Enlist the help of older kids in making this.  A six-year-old can easily handle a serrated dinner knife well enough to do the tomato prep.  For younger children, cut the stem ends off and then have the younger ones simply crush them with their hands.
Ingredients
½ bushel plum (aka roma) tomatoes
1 ½ cups extra virgin olive oil
2/3 cup packed basil leaves
1/3 cup packed oregano leaves
6 cloves of garlic
Salt to taste
Essential Equipment
Food mill
Cut the stem end off of the tomato and then cut it in half.  Toss it in the cooking vessel and repeat.  If you have slightly too many tomatoes, set them aside and add them when the others have cooked down a bit.
Put the vessel on the range over medium heat.  Add a very small amount of water to the cooking vessel- enough to just cover the bottom.  You're just trying to keep them from burning on the bottom while you wait for them to start releasing their own juices.
As best you can, stir them every 10 minutes or so by using a long, strong handled spoon to sort of pull the bottom tomatoes more toward the top.
When they've started to cook down (the "tomatoey" smell will start to perfume the air), turn the heat down to a low simmer and cook for 6-8 hours.  As long as you don't have the heat on too high, you don't have to worry about them at all.
If you're concerned about leaving the house with the range on, you can place the pot (assuming its oven safe) into an oven at about 300˚.  It is at the right temperature if you see a bubble making its way to the surface about every second.
When the volume is reduced by about 50%, add the olive oil, herbs and garlic.  Simmer about 30-45 minutes and turn off the heat, allow to cool.
Process through a food mill with small holes.  You want to mash the skins into the sauce as much as possible without mashing the seeds through (they're bitter).  One good way to keep it going is to crank 8 clockwise and then two counter-clockwise.  When the pulp left in the mill looks very dry and it becomes very difficult to turn the handle, you're done.
Check for thickness.  If it seems too watery, return it to the pot and cook off some water over medium low heat.  If not, season and store as desired.

Print This Post