/?php include(TEMPLATEPATH."/breadcrumb.php");?> /?php if(function_exists('wp_print')) { print_link(); } ?>
Curried Lentils with Summer Squash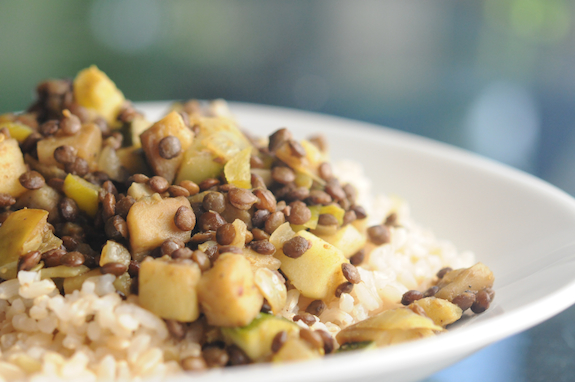 Getting home from the pool or- soon enough-  soccer practice a little later than you thought you would?  This is the perfect, simple, nourishing dish to throw together in 30 minutes.

Ingredients
1 medium onion, chopped
1 large zucchini or other summer squash, washed and cut into ½" cubes A combination of green and yellow squashes is eye-catching.
1 medium eggplant , cut into ½" cubes
3 cups cooked lentils
1 heaping tablespoon good quality curry powder or vadouvan
1 apple, peeled, cored and chopped into ½" cubes
cooked rice, preferably brown basmati, to serve beneath the lentils
Instructions
1. Sweat the aromatics in a skillet over medium heat, covered, for about 10 minutes.
2. Add the squash and eggplant and sauté until tender.
3. Add the lentils and curry powder. Season with salt to taste.
4. Turn off the heat. Spoon the apple over the top of the mixture in the skillet and cover for 3 minutes, allowing the residual heat to just warm the apple a bit. You don't want the apple to cook, just warm up. You want the bright note and crunch of the fresh apple.
5. Stir in the apple and serve in shallow bowls over rice.

Print This Post