/?php include(TEMPLATEPATH."/breadcrumb.php");?> /?php if(function_exists('wp_print')) { print_link(); } ?>
Craveable Veggie Burgers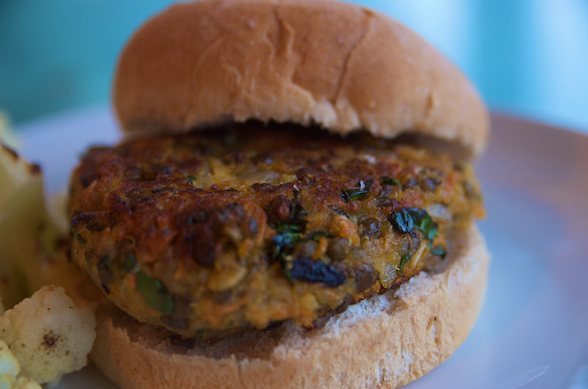 One of the bigger challenges in feeding my family well is the minivan roadtrip.  Ack!  It has been such a temptation to throw my hands up in despair and give in to the siren call of the fast food islands at the side of the road.  But I now have my iPhone!  I can pass a hundred miles of freeway looking for little food gems in far-flung towns along our routes.  I've made a science of discerning the truth behind the chatter of sites like Yelp.
That's how I discovered a lovely cafe called Marie Catrib's in Grand Rapids, Michigan.  What a find!  My 8-year old had a sweet and sour cabbage soup that she still talks about and I had a sweet potato and quinoa veggie burger that I have been craving ever since.  The craving so consumed me this week that I decided I must try to replicate that burger.

I played with a recipe that was a riff on another recipe online and got exactly what I was looking for!  These were so good that I went into full-on pig out mode- scarfing every last bit that was left on all of my kids' plates and working very hard not to eat the last two patties that I'd saved for Sophie's lunch.

This recipe would be awesome in a "freezer stash."  You could easily make a huge batch of this for little more time than a small batch and then just have them on hand for a fast weeknight dinner.

We'll see you next summer, Marie!

Yield:  10 patties

Ingredients
Precook
2 cups cooked brown lentils (about ¾ cup uncooked)
2 cups cooked quinoa (about ½ cup uncooked)
1 ½ cups mashed sweet potato (you can cook them, peeled and covered in the microwave with a tiny bit of water)
Note:  Go ahead and salt the cooking water for the lentils and quinoa.  That'll help layer the seasoning throughout the burger nicely.
For aromatics
2 cups onion, diced
2 garlic cloves, minced
All other burger ingredients
1 cup carrot, finely grated
1 cup kale, chopped very fine If it isn't very fine, it'll make your burger break apart
1 ½ cups oats (either old fashioned or quick)  These are here to absorb liquid from the veggies
½ teaspoon ground cumin
½ teaspoon ground coriander
1 tablespoon curry powder
1 tablespoon ketchup
1 tablespoon chili sauce, such as Sriracha
salt and pepper to taste
½ cup fresh cilantro, finely chopped I didn't love it in there.  My sister thought it was important to the quality of the flavor.  You decide.
Instructions
Cook the aromatics
In a skillet over medium-high heat, sauté the aromatics until the onions are translucent, seasoning them with salt about half way through the cooking process.
Compose the patties
Put the precooked and aromatic ingredients together in a large bowl with all the other ingredients.  Have fun getting them thoroughly smooshed together with your hands. This mixture would benefit from a 1-2 hour rest in the fridge, if time allows.
Form patties.  Unlike meat, these patties don't shrink up much when cooked, so you can make them true to size.
Pan-fry the patties
Turn oven on to 250-degrees.
Pour a generous amount (8" depth) of grapeseed, canola, or vegetable oil in the bottom of a large skillet.  Heat the skillet to high heat, taking care not to let the oil smoke.
Place the patties in the pan, giving them each at least ½" between each other.  Be very careful to lay them gently in the pan to avoid spattering oil on yourself.  I would further recommend keeping the kids out of the kitchen here.
Cook them 3-4 minutes on each side.  Remove them to a baking sheet lined with paper towels or newspaper and place them in the oven to keep warm.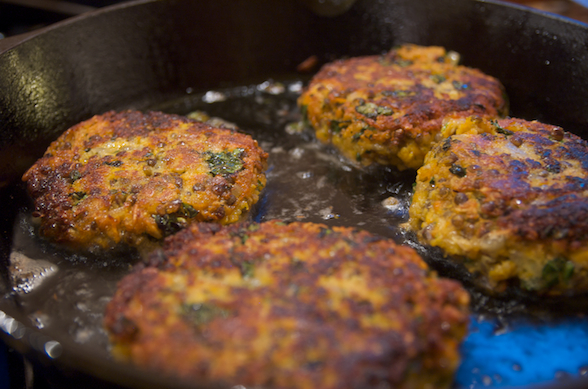 Off Script…
The recipe I followed recommended cooking the carrots and kale with the aromatics.  I opted to keep them fresh and was glad I did.  If you think you might like a mellower flavor, try cooking them.

Print This Post