/?php include(TEMPLATEPATH."/breadcrumb.php");?> /?php if(function_exists('wp_print')) { print_link(); } ?>
Cranberry Pumpkin Muffins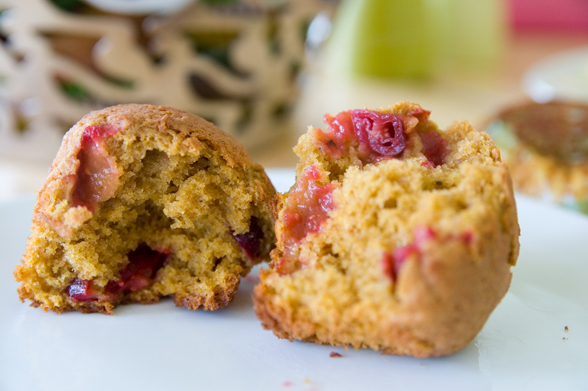 Adapted from Gourmet Magazine, November 2008
Makes about 18 standard-sized muffins
I make these from the first change of the leaves in the fall until the snowdrops bloom.  The bright red berries in the gorgeous orange muffin are the perfect wake-up call on a wintery morning. Made with 50% whole wheat flour, they have enough fiber to keep you feeling full until lunch rolls around.
Those of you who know me well know that I advocate using whole spices and grinding them as needed. When I make this, I just throw a couple cloves and allspice berries into a mortar and grind them together. Just do a little grating of nutmeg over the flour and then toss in the cinnamon. We don't need to be too precise here. Just err on the side of conservatism with these particular spices: a little goes a long way.
You can make your own pumpkin puree by buying a real sugar pumpkin, cutting it in half, scraping out the seeds and microwaving it on high until it is fork tender. You then scrape the flesh away from the rind and mash. You could even use a butternut squash, kabocha, calabaza- really any firm-fleshed winter squash.
Ingredients
Dry Ingredients
1 cup all-purpose flour
1 cup whole wheat flour
¼ teaspoon baking soda
2 teaspoons baking powder
¾ teaspoon ground ginger or 1 ½ teaspoons freshly grated
1/8 teaspoon ground allspice
1/8 teaspoon ground nutmeg
1/8 teaspoon ground cloves
½ teaspoon salt
Wet Ingredients
1 stick unsalted butter, melted and cooled
¾ cup packed light brown sugar
¾ cup well-mashed fresh pumpkin or canned pumpkin
¼ cup well-shaken buttermilk
2 large eggs
1 teaspoon vanilla extract
Fruit
1 cup halved frozen or fresh cranberries (they're actually easier to cut when they're frozen)
Instructions
Prep the oven and muffin pans
1. Preheat the oven to 400-degrees. Put muffin liners into the muffin tins.
Make batter
1. Assemble and whisk together the dry ingredients. Do the same for the wet ones.
2. Make a well in the dry ingredients by pushing them to the side so that you're pouring the wet ingredients into the dry ones, rather than on top of them. This helps the ingredients to come together with a minimum of stirring, minimizing gluten production and resulting in the tenderest muffin possible.
3. Stir the wet and dry ingredients with a wooden spoon or sturdy rubber scraper. Add the cranberries when the mixture is almost, but not totally, combined.
4. Spoon or scoop the batter into the muffin liners. You can fill the liners over the top. This recipe has enough structure to create a great muffin top- one of the reasons why I love it.
Bake
1. Bake in middle rack of the oven for 20 minutes, testing with a toothpick to ensure doneness.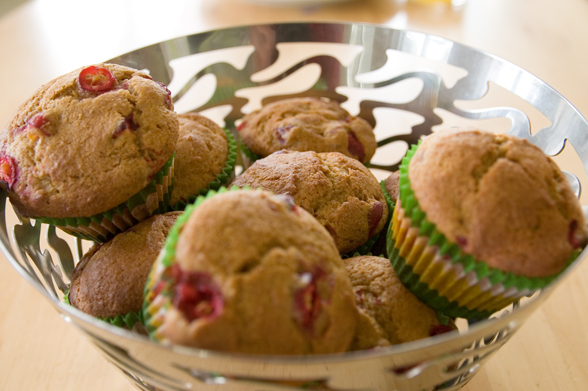 Print This Post