/?php include(TEMPLATEPATH."/breadcrumb.php");?> /?php if(function_exists('wp_print')) { print_link(); } ?>
Cranberry Maple Syrup
The color of this breakfast condiment is brilliant magenta.  It looks amazing on top of vivid orange pumpkin pancakes but is also quite fetching on a simple slice of french toast.  The cranberry flavor melds perfectly with the maple.  Each mellows out and balances the other- like my marriage.
This is another one of those recipes that is so simple that it feels a bit presumptuous to even call it a recipe. It's a bit more of an idea. You're just using a 2:1 ratio of syrup to cranberries. Scale it up or down as you like.
Cranberries have lots of pectin that really firms up when it cools. If you make a big batch and keep it in the fridge, you'll always need to warm it to get it flowing again. That's no big deal because, really, is there anything more counterproductive than cold syrup on hot waffles? It's like putting hot dressing on a salad.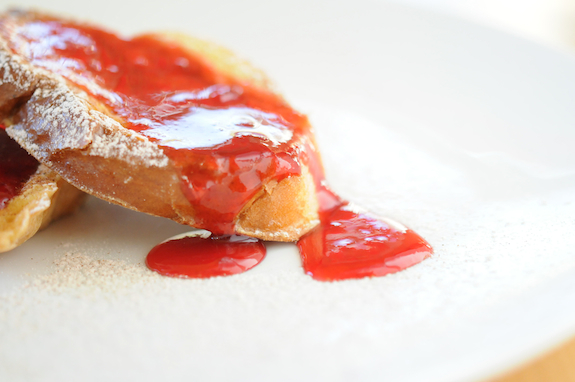 Special Equipment
Fine mesh sieve
Ingredients
2 cups of pure maple syrup And seriously, don't even think about using any of that maple flavored crap that comes in a mammy-shaped bottle.
1 cup of fresh cranberries rinsed and picked through for mushy berries
Instructions
1. Add the syrup and cranberries to a saucepan and cook over medium-high heat until the berries burst, about 10-12 minutes.
2. Puree in a blender or, more easily, in the saucepan with an immersion ("stick") blender.
3. Pass the pureed mixture through a fine mesh sieve to remove the skins and seeds. Using a rubber scraper, press and "wipe" the solids back and forth along the surface of the sieve to really extract all the liquid from the cranberry pulp.
4. Serve warm.
Off Script…
Could you do this with blueberries or cherries or peaches?  Of course!

Print This Post