/?php include(TEMPLATEPATH."/breadcrumb.php");?> /?php if(function_exists('wp_print')) { print_link(); } ?>
Cook like it's a Rental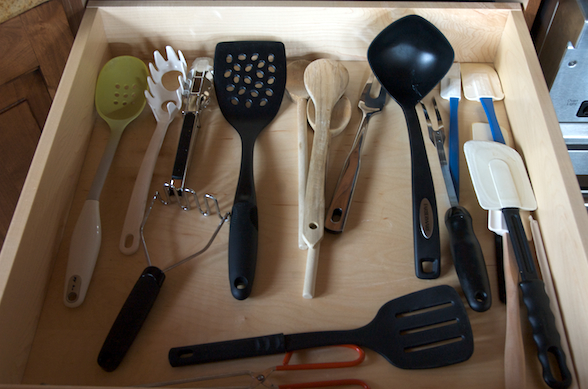 Hmmmm.  Six rubber scrapers and two meat thermometers.  No vegetable peeler.  No blender.  The tiniest box grater.  Whatever.  Let's make it work.
Before I had kids- which was before I even really knew how to cook- I figured out that cooking for myself when I travelled was the key to a great vacation.  It's fun to play with the local ingredients.  You meet all kinds of interesting folks at the beachside grill when you're all standing around with cutting boards full of meat in one hand and beers in the other waiting your turn.  You can eat and drink what you want when you want for a fraction of the cost of dining out.  And frankly, you don't spend a week getting bloated and constipated.
Having kids only made this more appealing.  The money we save by eating "at home" is compounded.  How nauseating is it to see $30 worth of kids' meals that have barely been touched left on the table?  I don't have to get anyone's shoes on in order to just have breakfast.  I don't have to argue with anyone about the hazards of eating French fries twice a day for days on end.  As a family, we have another way to experience the local culture by playing with local foods.
There is some finesse involved in this practice.  You can't really be sure of the equipment you'll have nor its quality until you show up.  The quality of meat and vegetables might be a mystery until you get there.  However, generally, these are all things you can work with.
Here are my best tips for planning to cook while on vacation.
Keep your meals super simple. One dish meals are a great idea- casseroles, soups, etc.  Simply roasted or grilled meats are wonderful- nothing's more fun than time on the beach spent grillin' steaks or fish and watchin' the sunset.
Bring your own knives. No matter what.  Don't argue with me.  You can buy a cheap knife guard for less than $5 that will allow you to just check it in your luggage.  You know my mantra about your knife being your best friend in the kitchen.  The knives in rented accommodations always, always, always suck.  You're likely to cut yourself with these overgrown butter knives and ruin your trip.
Bring a few of your own spices. It is so easy to put your favorite spice rub in a Ziploc baggie.  Small baggies of cumin, coriander, curry and cinnamon often make it into my suitcase as well.  I cherish the versatility of these go-to spices and I only need to bring about one heaping tablespoon or so of each (more for the rub).  Put the small baggies into a larger baggie as a backup against punctures during travel.
If you have a sense for what's available at your destination, pre-plan your meals. If Naples (Florida or Italy!) is a regular destination, you already know the food landscape.  Bring baggies of pre-measured, lightweight ingredients.  Bring a shopping list for your planned meals and printouts of any recipes you might need.  Even I don't want to spend lots of time planning and executing meals whilst on vacation.  The more you can do at home, the less time you will miss on the beach or in the hot tub.
Google or Yelp the local grocery stores and markets to get a feel for what you'll have available to you at your destination. I didn't do this for our trip to Steamboat Springs, CO last week.  Big mistake.  I assumed there'd be a Whole Foods nearby because skiing is such a healthy person's activity.  Ooops.  When I got there, I looked it up online and discovered that the nearest Whole Foods was 87 miles away.  So I got stuck at a Kroger affiliate.  This completely threw off my plans.  The meat was almost entirely conventionally raised.  So much for roasted chicken or fish.  I worked it out by planning one night of pasta with tomatoes, olives and capers, one tofu stir-fry, and two meals using bison meat (a local delicacy and always free-range and grass-fed)- specifically, burgers and Babootie.  I had no trouble finding suitable breakfast ingredients.
Don't get hung up on buying ingredients of which you are consuming only small amounts. There was no way that we were going to eat burgers without ketchup and mustard.  So I bought the smallest bottles I could find of the stuff.  Ditto sugar, flour, jam, and chutney.  There are two ways to make peace with this.  First, you are still saving a fortune, so the "waste" is only an illusion.  Second, the housekeeper gets to take what she wants and often the non-perishables such as cooking oil and sugar just get rolled over to the next family who stays there.
Have a sense of adventure and be creative. I assumed there would be cooking oil in the condo when I did my shopping trip- another stupid assumption, though usually a safe one.  Loathing a return to the store, butter was perfectly fine for most things.  And then stir-fry night came into the rotation.  I thought about it for a minute and then realized that I could probably stir-fry in clarified butter (also known in Indian cooking as "ghee").  To clarify butter, you just melt it and then skim all the foam off the top.  This raises the smoke point of the almost pure oil that's left.  It worked!
We ate pancakes from a mix for breakfast, topped with a strawberry-rhubarb compote.  We ate with gratitude.  However, we were all reminded that we take for granted our much yummier scratch-made buttermilk pancakes.
Don't hesitate to call the management company if you don't have an essential piece of equipment. They can often "borrow" it from another unit that is unoccupied.  This is how I solved my blender problem.
Save up all your leftovers and have a "buffet" on the last day night of your trip. At that point, you're just needing to focus on making sure you haven't left a load of clothes in the dryer or a "lovie" under the bed.
Finally, put some flowers and candles on the table.  Buy a very nice bottle of wine.  Relax.  You're on vacation with your favorite people!

Print This Post