/?php include(TEMPLATEPATH."/breadcrumb.php");?> /?php if(function_exists('wp_print')) { print_link(); } ?>
Conch Marinate
If you're headed to the Caribbean for Spring Break, give conch a try.  Conch is very mild, but not at all tasteless- similar to fresh scallops. It can be chewy if overcooked, but when uncooked or cooked properly, it is tender with a texture similar to al dente pasta.
This is my interpretation of what our snorkel boat captain dictated to me. The kids loved it, in spite of being initially freaked out by watching our conch being caught and dispatched.  

Ingredients
Juice of 1 ½ limes
1 lb conch (about 1 conch), chopped into ¼"dice
2 T ketchup
2 teaspoons Pickapeppa hot sauce, or to taste Of course you can use any kind of hot sauce you like, but this Pickapeppa stuff is really tasty.
½ green bell pepper, chopped into ¼" dice
¼ cup finely chopped onion
Crackers or bread rounds for serving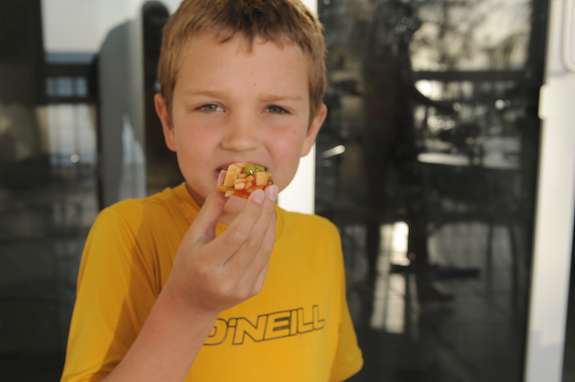 Instructions
1. Combine all ingredients and serve on crackers. You can do that, right?

Print This Post