/?php include(TEMPLATEPATH."/breadcrumb.php");?> /?php if(function_exists('wp_print')) { print_link(); } ?>
Classic Roast Chicken with Pan Gravy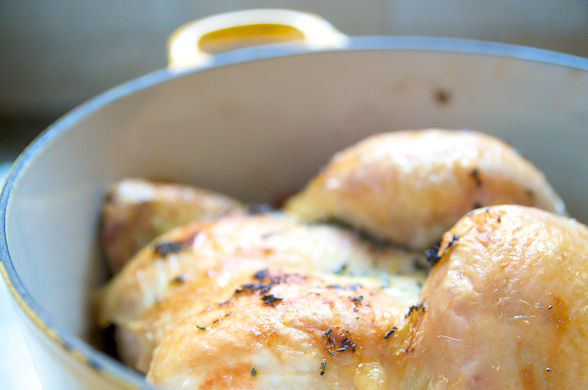 In January 1955, I began to experiment with chicken cookery.  It was a subject that encompassed almost all the fundamentals of French cuisine, some of its best sauces, and a few of its true glories. Larousse Gastronomique listed over two hundred different chicken recipes, and I tried most of them… But my favorite remained the basic roast chicken.  What a deceptively simple dish.  I had come to believe that one can judge the quality of a cook by his or her roast chicken.  Above all, it should taste like chicken:  it should be so good that even a perfectly simple, buttery roast should be a delight.

— Julia Child,  excepted from My Life in France
I heartily concur.  Though I have seen a bajillion recipes for all kinds of ways to roast chicken, three times out of four no preparation can hold more appeal to me than this.  This simple preparation showcases the perfectly chickeny flavors of the pastured birds I am so fortunate to be able to get from my farmer's market buddy, Steve.
Ingredients
One whole chicken, 3-4 pounds
To baste
2 tablespoons butter, melted
1 tablespoon thyme leaves
Aromatics for Jus
1 small onion. Roughly chopped
1 stalk celery, cut into ½" pieces
1 medium to large carrot, cut into ¼" rounds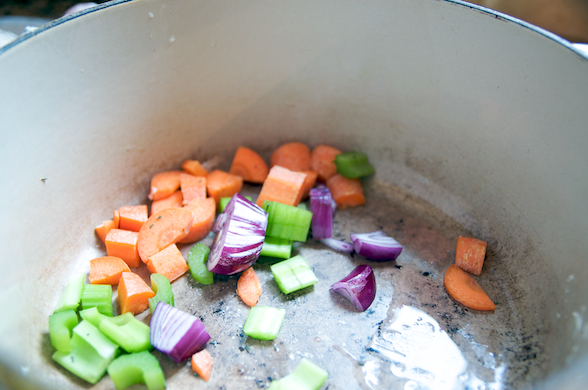 For gravy
2 tablespoons butter
2 tablespoons all-purpose flour
1 can low-sodium chicken broth
¼ cup whole milk or 1 tablespoon heavy cream (optional)
Special Equipment: Cocotte or dutch oven (a small, round, oven-safe pot that fits the bird with no more than 1" space between the bird and pot on all sides)
Instructions
Prepare the chicken
Preheat oven to 375-degrees.
Remove any packets of organ meats or neck from inside bird.  Reserve for gravies or stock.  Pull fat from around tail.  Rinse inside and outside of bird and pat dry.
Using poultry or kitchen shears, cut along either side of backbone of bird.  Remove, reserving in freezer for stock.  This way of preparing the bird is called spatchcocking.  It puts the legs and breast meat on the same cooking plane, ensuring that both come to a done temperature at the same time.
Place chopped vegetables in an even layer on the bottom of the roasting vessel.  Place the bird on top of the vegetables with thighs splayed outward.  Add thyme to butter and brush all over chicken.  Season liberally with kosher salt.
Roast chicken
Place chicken in oven checking frequently with oven light for brownness (avoid opening oven).  If bird isn't browning enough or is browning too quickly, adjust heat by 25-degrees.
Remove chicken when it reaches 160-degrees- about one hour.
Rest chicken on a carving board loosely covered in aluminum foil while you prepare the gravy.
Prepare gravy
Pour vegetables and pan drippings through a fine-mesh sieve and into a bowl, pressing lightly on solids to extract liquids.  Pour into a Pyrex measuring cup. 
Place roasting vessel on stovetop and turn to medium heat.  Add butter.  When melted, sprinkle flour over pan bottom.  Stir with a whisk until cooked, into a roux- about 2 minutes.
Using a basting tool, remove drippings from underneath fat layer in measuring cup and add to pan.  Add chicken broth to achieve about 1 ½ cups liquid.  Stir until thickened into gravy.  Finish with a touch of half-and-half or heavy cream if you want a dairy finish.

Print This Post