/?php include(TEMPLATEPATH."/breadcrumb.php");?> /?php if(function_exists('wp_print')) { print_link(); } ?>
Classic French Chicken Stock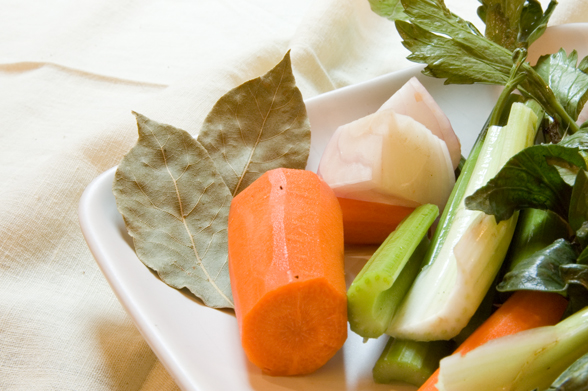 The odds are high that people will make fun of you for making your own chicken stock.  "Don't you know you can buy that at the store?" " You really don't have anything better to do?"  And so on.  Be confident. You'll have the last laugh. Wait 'till one of these smug scoffers gets sick and then kindly offer to bring them some chicken soup made with homemade chicken stock.  They'll be astonished by how good it is and will ask you for the recipe.  That's when you'll share with them that the secret to great soup is simply great stock.  The recipe is almost superfluous.  Hah!
You can also enjoy the hilarity of the idea that making homemade stock is the least bit difficult or time-consuming.  Here's basically all you do to make homemade stock:  throw some chicken bones in a pot with some herbs and vegetables.  Cover with water.  Simmer for 6 hours.
I throw the picked-clean bones from roast chickens in zip-top bags, and then store them in the freezer along with the organ meats until I'm ready to use them.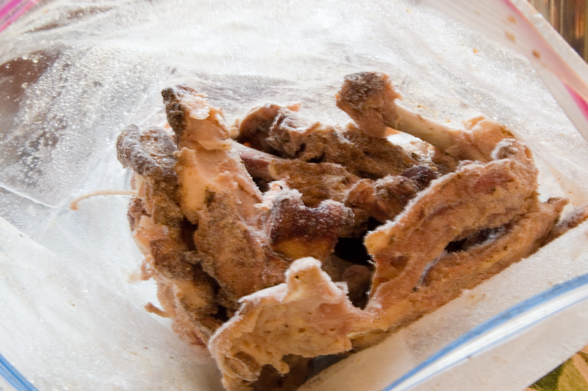 The organ meats are optional.  I find they add a really nice depth of flavor but you decide for yourself.  The flavor is simpler without them.
Ingredients
Chicken parts
3 large chicken carcasses
3 chicken necks (usually found inside the raw bird)
3 sets of chicken organ meats (optional)
Flavorings
3 bunches of thyme (When bunched all together, about as thick as your index finger.  However, there's no risk to being imprecise here.)
2 Mediterranean bay leaves (preferred) or 1 California bay leaf
3 large carrots, peeled and roughly chopped
2 stalks celery, roughly chopped
1 large onion, peeled and quartered
1 tablespoon whole peppercorns
Salt to taste

Special Equipment
Extra-large stockpot
Instructions

Cook the stock
Add chicken parts and flavorings to stockpot.
Cover with water to about 2 inches above top of chickens.
Bring to a boil.
Reduce heat to a gentle simmer and cook, covered, for at least four hours and as much as 6.
Strain and Defat the stock
Remove stock from heat and allow to cool slightly.
Using a spider (large tool that looks like a huge spoon made of twisted wire) or large slotted spoon, remove large chunks of chicken bones from stock.  Discard.
Pour stock from stockpot through a fine mesh strainer to remove as many solids as possible.  If a fine-mesh strainer is unavailable, try lining a colander with cheese cloth or a couple of coffee filters.
If needed immediately, the stock can be defatted with a spoon by simply trying to lift away the layer of oily fat that rises to the top of the stock.  The more effective option, however, is to refrigerate overnight so that the fat solidifies and can be easily skimmed off the top.  In the winter, I cover tightly and put in the garage overnight, where the Chicago winter will freeze the top layer of fat (but generally not the broth) which makes it even easier to completely remove the next day.
Freeze in double-layered zip-top bags (pour into one bag, then put the first bag into a second bag) or vacuum-sealer bags until needed. Zip-top bags aren't made of the sturdiest material. They can easily be torn when frozen. This is a real bummer when you go to defrost it and have an unnoticed little hole in the bag.  Imagine the possibilities for disaster…
Note:  Salt really "turns on the lights" when it comes to the flavors of your stock.  However, I always salt my stock when I use it because the amount of salt I want is different for every dish.  If you salt before or during cooking, you also run the risk of oversalting- since the volume of liquid will reduce while cooking.  There are chefs who will swear that you must salt during the cooking for best flavor development.  Whatever.

Print This Post