/?php include(TEMPLATEPATH."/breadcrumb.php");?> /?php if(function_exists('wp_print')) { print_link(); } ?>
Cinnamon Beef Noodles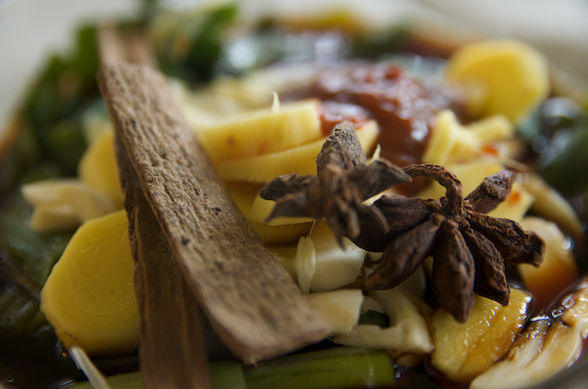 Adapted from Asian Noodles, by Marie Simonds

This is a wonderful cold weather, comforting food that, unusually, isn't the least bit leaden.  I think I crave and make it as much to smell it cooking as I do to actually eat it.  The perfume of this dish always gets everyone asking, "Wow, what's for dinner?"
Ingredients
Chile-Cinnamon Seasonings
6 scallions, trimmed, cut into 1 ½" sections, and smashed lightly with the flat side of a knife.
6 cloves garlic, peeled, smashed lightly with the flat side of a knife and thinly slices
4 slices fresh ginger (about the size and width of a quarter)
1 ½ teaspoons hot chile paste, such as Sriracha
2 cinnamon sticks
1 star anise or one teaspoon aniseed
For the stew
8 ½ cups water
½ cup soy sauce
2 pounds chuck roast, trimmed of fat and gristle and cut into 1 ½" cubes
10 ounces broad-leaf spinach or kale or chard or mustard greens, washed and trimmed
½ pound flat Chinese wheat-flour noodles, udon, or ther flat noodles such as fettuccine, cooked and rinsed under cool water
For finish
3 tablespoons minced scallions
Instructions
Saute the aromatics
Heat a large pot or casserole over medium-high heat.  Add the oil and heat until hot but not smoking.  Add the chile-cinnamon seasonings and stir-fry until fragrant, about 15 seconds.
Compose the stew
Add the water and soy sauce and bring to a boil.  Add the beef and return to a boil.  Reduce the heat to a gentle simmer and simmer for 1 to 1 ½ hours, until the beef is very tender but not falling apart.
Skim the surface to remove any impurities or fat.  Remove the ginger and cinnamon sticks and discard.
Add the greens and cook until tender.
To finish
Divide the noodles among the soup bowls.  Ladle the stew over the noodles and sprinkle with the scallions.
Yields six servings

Print This Post