/?php include(TEMPLATEPATH."/breadcrumb.php");?> /?php if(function_exists('wp_print')) { print_link(); } ?>
Chicken with Pineapple and Mint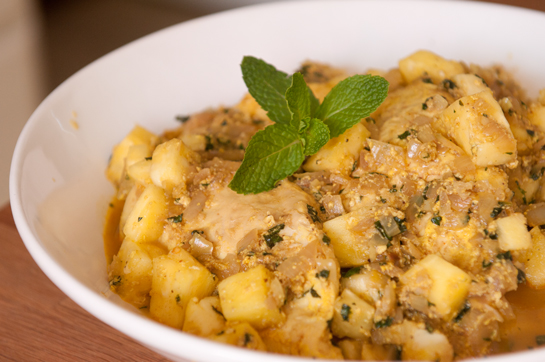 Adapted from the San Francisco Chronicle, probably May 15, 2002. I suspect it is a Mark Bittman recipe.
I found a newspaper clipping that included this recipe hidden in plain sight while looking for something in my recipe notebook. I still wonder why it took me six years to actually make it.  This is fantastic.  Simple.  Delicious.  The kids all loved it.  Serve it simply with brown basmati rice and you have an amazing one-dish dinner.  Like anything with a sauce, this would be a great candidate for freezing.
Ingredients
For marinade
½ teaspoon turmeric
1 cup plain yogurt
For meat
2 pounds boneless, skinless chicken breast fillets
For sauce
4 tablespoons neutral-tasting cooking oil
1 large onion, finely chopped
6 garlic cloves, minced
1" piece of ginger, minced or grated
8 green cardamom pods
1 cinnamon stick
¼ teaspoon ground cloves
4 bay leaves
1 teaspoon paprika
1/8 teaspoon nutmeg
½ teaspoon freshly ground black pepper
½ cup water
To finish
½ cup fresh mint leaves
½ cup fresh or canned pineapple chunks
Mint sprigs for garnish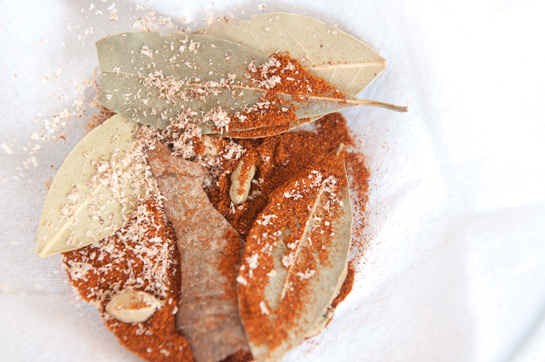 Instructions
For marinade
Mix together the turmeric, salt and yogurt until smooth.  Rinse and trim chicken and pat dry.  Rub the yogurt mixture all over the chicken pieces.  Refrigerate for about one hour or up to four.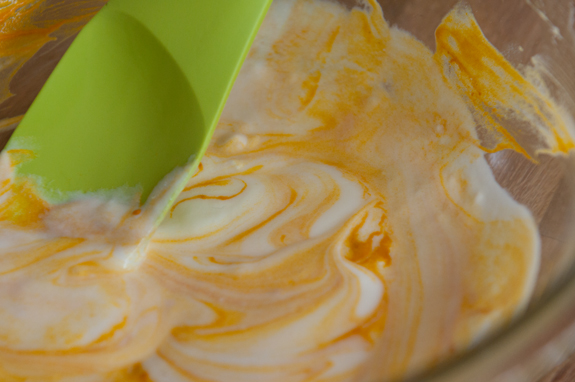 Prepare the aromatics
Heat the oil in a heavy skillet over moderately high heat.  Add the onion, garlic and ginger.  Stir and cook for 4 to 5 minutes.  Add the spices and stir until aromatic, about 30 seconds.
Cook the chicken and sauce
Add the chicken along with its marinade.  Reduce heat to medium and cook 2 to 3 minutes per side.
Add the water and bring to a gentle simmer.  You just want to see an occasional bubble reach the surface.  Cover and simmer for about 20 minutes, until the chicken is cooked through and tender.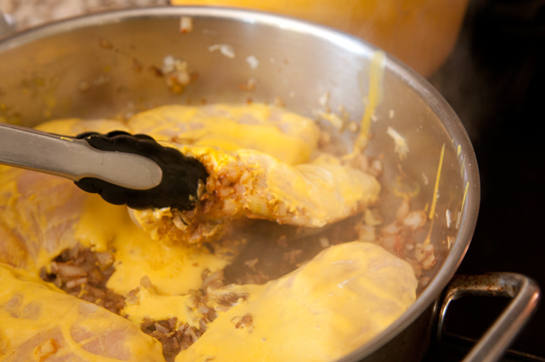 Finish the dish
Add the mint and pineapple and cook 2 to 3 minutes, until warmed through.  Serve garnished with mint.
The whole spices are not meant to be eaten.  You can try to remove them or just warn your diners of their presence.  They won't hurt anyone.  They're just a bit of a strong surprise when eating.  I have had great success using chopsticks to fish them out.
Off script…
Boost the tropical flavors by using coconut milk in place of the water.  However, take care to keep the temperature very low to avoid curdling the milk.
Substitute ripe mango for the pineapple.
Kick it up by adding one or two whole dried chilies to the spices.  Better still, use a fresh Thai chili.

Print This Post