/?php include(TEMPLATEPATH."/breadcrumb.php");?> /?php if(function_exists('wp_print')) { print_link(); } ?>
Chicken Adobo–Happiness on a Plate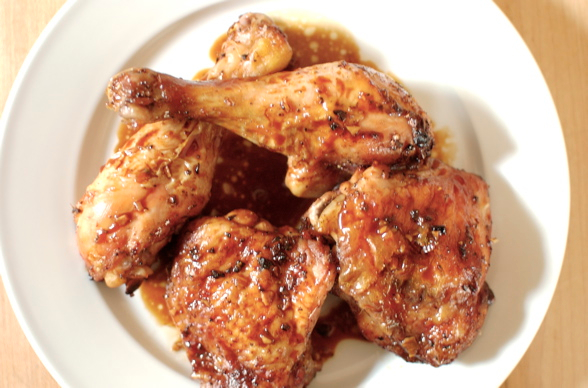 In my experience, Filipinos seem be among the happiest people on the planet.  Despite widespread poverty that forces many to take work overseas in order to support their extended families back home, it's rare that you'll come across a Filipino who doesn't have an infectious smile and giggle always at the ready.  I suspect that one reason for their happiness may be chicken adobo.  It's one of the Philippines' great contributions to the culinary world.  It's incredibly simple to make, inexpensive, and hauntingly delicious–or as they say in Tagalog, "galing galing!"  Try and say that five times without chuckling.

Adobo is essentially a balanced marinade of soy sauce, garlic, bay leaves, black pepper, and vinegar that makes a complex but light and pleasing sauce.  Marinate, braise, broil and reduce-you can practice a whole range of cooking techniques with this one dish.
Be sure to make extra–it tastes even better as leftovers that have sat in the cooking sauce for a couple of days.  Cold out of the fridge or packed into a lunch, you'll be glad to have extra on hand.
While Jill and I often advocate buying a whole chicken and using its parts for different purposes–rather than, say, splurging on boneless, skinless breasts–this is one instance where I'll allow- and even encourage you to just use legs and thighs.  Buy a family pack if your butcher or grocer offers larger quantities at a discount.  As I said before, the extra will not go to waste.   Chicken legs are inexpensive and work better than breasts in a slow braise. The additional fat and connective tissue in legs helps keep them moist and tender during the longer cooking process.  That's not to say you can't use a whole, cut-up chicken–just realize the breasts will be a bit on the tough side.
Furthermore, while I usually advocate the use of whole grains such as brown rice, in this case I am also going to give you a pass to use good old steamed white rice.  Its simpler flavor profile works well to sop up the sauce from the chicken. Go on, be naughty.  Stir fry some green beans–or Chinese long beans if you can find them–with some garlic and ginger, or make a simple stir-fry of whatever you have lurking in your crisper drawer.  Don't stress over the vegetable side though; it's the adobo and rice that are really going to be the showcase of this meal.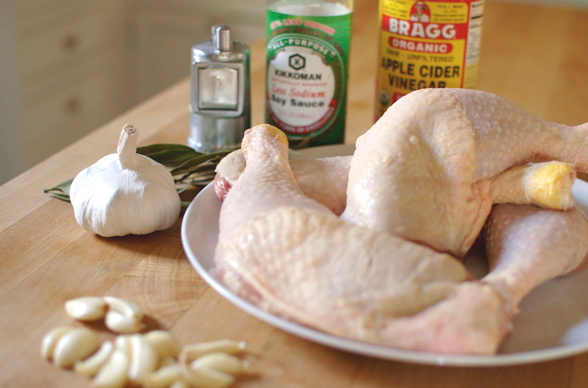 Ingredients
For the marinade
1/2 cup vinegar–cider, rice, or white
1/4 cup soy sauce (I like low-sodium)
2 tablespoons minced garlic
2-3 bay leaves
1/2 teaspoons freshly ground pepper
Meat
4 whole chicken legs, divided into drumsticks and thighs Look for the sweet spot in the middle of the joint that will release under the pressure of your knife and cut.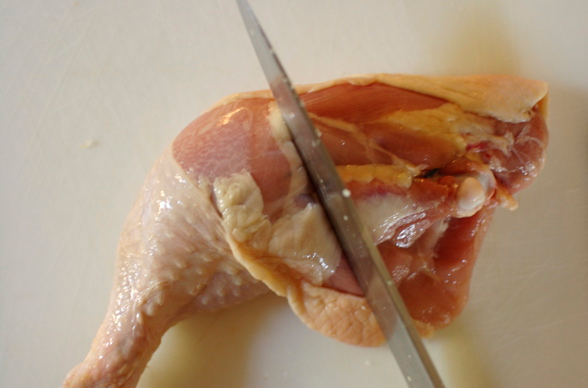 Instructions
Make the marinade
Combine marinade ingredients in a bowl.
Place chicken legs into a large plastic storage bag that's just large enough to fit everything snugly.  Add the marinade, press out excess air, and seal the bag.  Marinate in refrigerator for 2-3 hours.
Cook the chicken
Preheat the oven to 400 degrees.
Place the chicken in non-reactive baking dish or ovenproof skillet.  Bake for 45 minutes.
Remove the chicken from the baking dish, collecting the sauce in a Pyrex measuring cup.  Allow the sauce to cool to cause the fat to separate and rise to the top of the sauce, then skim the fat off.
Reduce the sauce by about 1/3 on the stovetop. Remove the bay leaves.  The cooking juices from the chicken will have diluted the sauce a bit–but also made it more tasty!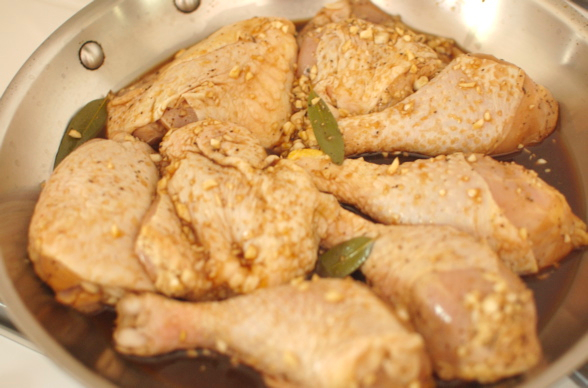 Finish the chicken
Fifteen minutes before serving, preheat the broiler.
Broil the chicken on an aluminum foil-covered sheet for 5 minutes or until skin is browned and crispy.
Serve the chicken either with the sauce drizzled over top or passed separately.

Print This Post