/?php include(TEMPLATEPATH."/breadcrumb.php");?> /?php if(function_exists('wp_print')) { print_link(); } ?>
Cast Iron Pans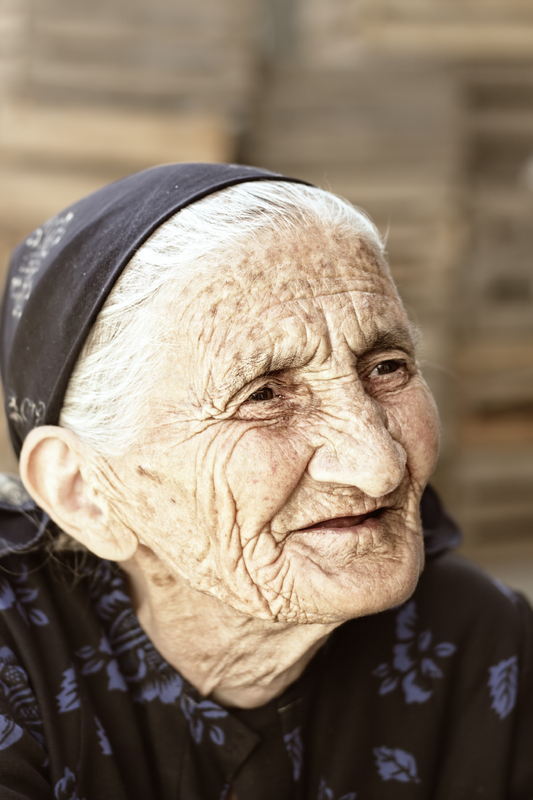 Have you ever known a bubbie?  I'm talking about one of those Eastern European grandmotherly types.  Her face reveals the days of joy and sorrow she has lived in its lines and folds.  Her body is sturdy though her movements are deliberate.  Her hands are knowing and confident in all that she does.  Her eyes still twinkle.  She understands so many things you don't.  She knows you can't yet understand them.
Cast iron pans are like bubbies.  They're reliable, versatile, functional.  They're absolutely beautiful with their dark sheen, dings, and the patina qualities that only come with age and use.  I can't imagine buying a new cast iron pan from a store.  There are so many floating around garage sales and flea markets.  The older they are the smoother their surfaces and deeper their seasoning.  There's also a sense of being a part of history- continuing a culinary tradition that someone else began in that pan 50 or 75 years ago.
Qualities
When you really need a cast iron pan, nothing else will do.  As with your children's personalities, their greatest weaknesses are their greatest strengths.  Iron is a poor conductor of heat.  It takes a long time to heat up and cool down- three to five minutes versus one minute or less for tri-ply (a pan with an aluminum or copper center sandwiched between stainless steel).
A cast iron pan isn't going to be very responsive to minute changes in heat.  If the aromatics in your cast iron pan start to burn, they're toast.  You can't cool the pan off quickly enough by simply removing it from the heat.  The only rescue is to quickly scoop them out of the pan until it cools down a bit.  Contrast this with a tri-ply pan.  If you notice the pan is too hot, you just turn the heat down and avoid burning the ingredients.  No biggie.
This low conductivity can be harnessed for your benefit.
There are no hot spots that scorch food or fond in a cast iron pan.
The heat stays constant and consistent.
The pan stays hot even when you add cold food to it.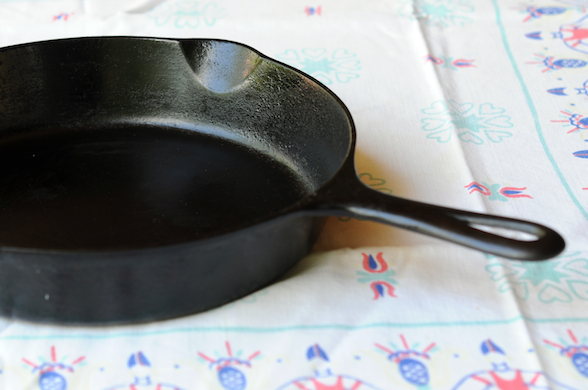 Uses and Benefits
Cast iron is an ideal vessel for deep-frying.  You'd never see a Southern woman fry her chicken in anything but.  Its heft is a safety factor, making it more difficult to- God forbid- have an accident with spilled oil.  When you're deep-frying, you need to keep that heat high.  Adding cold food to hot oil tends to bring down the temperature of the oil.  When you're frying in cast iron, the constant heat of the pan keeps that temperature from dropping too much and brings it back up quickly.
Don't even think about searing in anything but cast iron.  Searing requires a crazy hot pan that stays hot to develop a beautiful Maillard reaction on the outside surface of meat.  Because it is oven proof, you can build a beautiful sear on a thick piece of meat and finish it in the oven with ease.  If you must cook a burger or steak indoors, cast iron is the only equipment that's going to give you the heat you need to create serious flavor.
When it's well-seasoned, cast iron is effectively non-stick. That's important, given the current concerns over non-stick coatings.  It is also non-reactive; it won't react with acidic foods.  I use cast iron for scrambled eggs.  The even heat prevents scorching and the eggs barely stick to the pan.  To clean them off, I just fill the pan with a bit of warm water right after I remove the eggs from it.  The residual heat from the pan softens them up and by the time I'm ready to wash it, the eggs just wipe right off.
Using your pan confers nutritional benefits.  The pan actually supplements your diet with iron from the pan.  Cool, eh?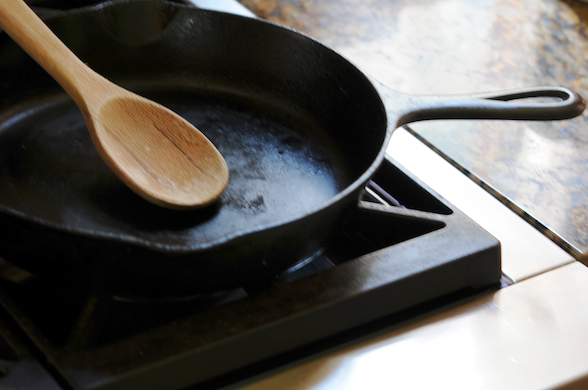 Care and Maintenance
Rule Number One:  keep your cast iron pans away from your in-laws and babysitters until they have been properly trained and certified not to scrub the black stuff off with an SOS pad.
Nothing horrifies me more than seeing some kind, helpful soul standing over my pans with an SOS pad or- almost as bad- putting them in the soapy dishwater to soak.  Aaargh!  Remember that bubbie analogy?  Well, that's a little like taking your bubbie on a roller coaster.
Cast iron isn't at all high maintenance; it just needs the right kind.  You see, you need to build up a layer between the iron and the food that's cooked in it.  That's called seasoning.  It is basically a layer of carbonized fat that bonds to the metal.  Now, here's where things get a bit controversial.  There is as much passion about the "best" way to season cast iron as there is about ragu-making in New Jersey.  Never use vegetable oils, only animal fats.  Never use animal fats, only vegetable oils.  Don't get too hot.  Get really hot.  One coat will do it.  Multiple coats are required.  And on, and on, and on.
Here's my advice:  buy an older pan with minimal traces of rust.  It will likely already be well seasoned.  Clean it and season it again at home.  Do this by heating it to hot temperature over the range, brushing it generously with Crisco, duck fat or lard.  Put it upside down into a 500-degree oven over a baking sheet or foil to catch drips.  Turn the oven off after 15 minutes and wait to remove it until it is cool.  This takes several hours.  It will be stinky and smoky.  Use plenty of fat every time you use it until you feel confident about the seasoning.  There should be no metallic taste or discoloration to your food.
I wipe my cast iron pans out with a slightly abrasive plastic sponge that's safe for non-stick coatings.  For stubborn gunk, I'll put water in the pan, boil it and then gently scrape the stuff off with a spatula taking care not to splash myself.  To guard against rust, dry your pans by turning on a burner and heating the pan until it's dry.  It only takes a minute or two.  Until your pan is very well seasoned, give it a light sheen of vegetable or grapeseed oil before you put it away.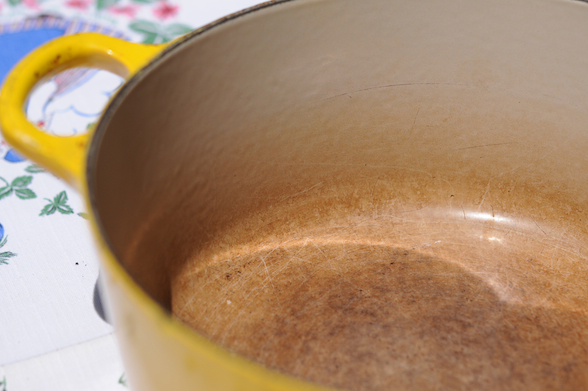 Enameled cast iron has all the benefits of old-fashioned well-seasoned cast iron. The enamel eliminates the need for seasoning and guards against rust.  A light-colored enamel also enables you to see the color of the fond you're developing as well as the true colors of sauces as they develop.  That's all wonderful.  Here's the punch line:  enameled cast iron costs about 10 times as much as a flea market pan.

Print This Post