/?php include(TEMPLATEPATH."/breadcrumb.php");?> /?php if(function_exists('wp_print')) { print_link(); } ?>
Canapés with Walnut Butter, Apples and Aged Gouda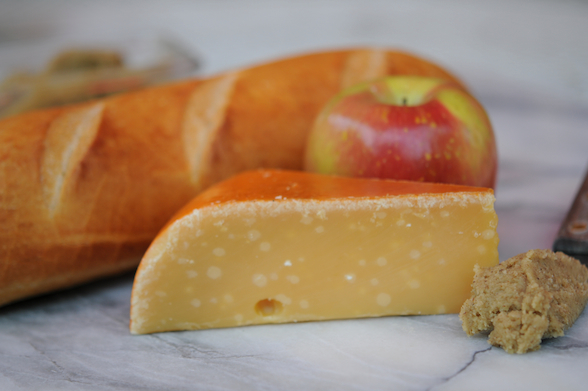 I'm going to tell you something about myself that will seem very incongruous with what you think you know about me.  Revealing this bit of information forces me to uncover that- deep in my heart- I'm not as gracious as I aspire to be.

I hate bringing food to potlucks.  I hate being asked to bring an appetizer, or side dish or whatever.  That seems weird, doesn't it?  I mean, I love to cook and I love cooking as a gesture of affection.  What's my problem?

Sigh.

I'm a snob.  I'm so sorry.  It's just that I know if I bring something I'm proud of, it is generally going to sit next to a massive platter of previously frozen assorted phyllo appetizers, three different versions of layered taco dip and mini-weenies smothered in some gooey-sweet bottled sauce.  Lots of folks love that stuff.  I don't.  I just don't want participate.

Here's the other challenge.  I don't want anyone to feel bad about what they did or didn't make.  If I do something exciting, I feel like I'm "showing off."  That's tasteless.  It feels a little like wearing a white dress to a wedding at which I am not the bride.

This appetizer is my solution.  It takes a bare minimum of time to prepare.  It can be prepared hours before I need to bring it.  It looks as simple as it is- at first glance, no one is thinking, "show off!"  It tastes fantastic.  I consistently get emails for the "recipe" every time I bring it.

In spite of it's mundane appearance, this dish surprises everyone with its goodness.  Hmmm.  Just like my favorite people…
Ingredients
1 French baguette, sliced into ½"thick rounds I slice mine on the bias to give me a little more surface on which to arrange the ingredients.
2 crisp, sweet apples, such as Fuji, Braeburn or Pink Lady
¼ lb. aged Gouda I'm a fan of the 3-year aged that Whole Foods carries.  You can use another kind of hard, aged cheese with a nutty quality.
½ cup walnut butter
1 heaping tablespoon finely chopped fresh tarragon, marjoram or thyme This adds nicely to the flavor but, more importantly, it creates much needed visual appeal.  The colors of this dish aren't particularly interesting on their own.
Instructions
Leaving the skins on, core your apples and slice them thinly.  A mandoline is a great tool for doing this.  Make them about 1/8" thick.
Slice your cheese very thinly.  A good mandoline works for this job too, but you can simply use a knife.
Spread each piece of bread with a thin shmear of walnut butter.  If you're serving within an hour or so, artfully layer the cheese, then the apples.  If you need to serve later, use the apples first, then the place the cheese on top.  The apples will turn an unappetizing brown if left on top.
Place canapés on a large serving plate.  Garnish lightly with the herbs.
Off Script…
Toast the bread rounds if you like.  Add a tiny dollop of fig jam to the top of each canapé.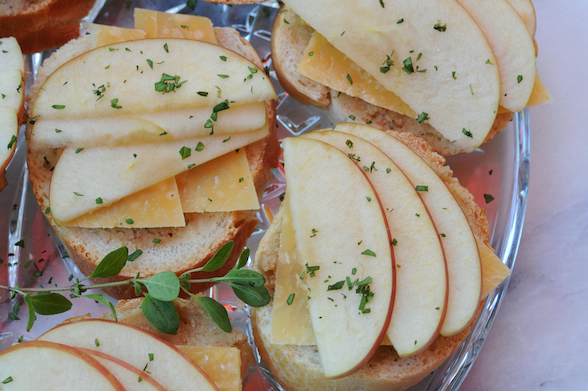 Print This Post