/?php include(TEMPLATEPATH."/breadcrumb.php");?> /?php if(function_exists('wp_print')) { print_link(); } ?>
Buttermilk Pancakes
Adapted from Cook's Illustrated's "Best Buttermilk Pancakes" recipe
My mom and I have an ongoing rivalry about simple vs. good food.  I've won her over on the superiority of homemade chicken stock and grass-fed beef.  She's still been pushing back on the breakfast foods.  She routinely treks to Williams-Sonoma for their crepe mix.  She swears by it.  It makes me laugh because, seriously, the ingredients for a great crepe are just flour, eggs, milk, butter and vanilla.  One year for her birthday, I gave her a mason jar filled with flour that I'd labeled "Jill's Homemade Crepe Mix."  The instructions specified "Add 3 eggs, 1 C milk, 2 T melted butter and 1t vanilla to ¾ C mix."
She's also busted on me about making homemade pancakes.  You know the argument: "Why make them from scratch when the mix is so easy?" I insisted on making these when we were all up at the Lake House for Memorial Day weekend.  Everyone was amazed:  "They're so light.  They taste so great.  That didn't take long."
I TOLD you!

I make these at least once a week- and yes, I do it on weekdays.  You see, I've memorized the recipe.  This is a great little trick.  Just keep the recipe hanging on the inside door of a cupboard somewhere.  Each time you make it, test yourself to see if you can make it without peeking.  I can crank out a bowl of batter in five minutes.  Sure, your mix only takes one minute.  But I'll keep on sacrificing four minutes of my day for great flavor and superior nutrition.
Pancakes just beg to be played with using sauces and add-ins. I keep them interesting with the "Off Script…" variations.
Ingredients
Dry Ingredients
3 cups flour I do 50/50 white AP and whole wheat.  You can also use all whole wheat pastry flour. 1 teaspoon table salt
1 ½ teaspoons baking powder
¾ teaspoon baking soda
¼ cup sugar (optional)
Liquid Ingredients
3 cups buttermilk
1 tablespoon vanilla extract This depends a bit on the vanilla you use.  My Molino Real Vanilla has a really smooth, clean taste and I love a strong vanilla flavor.  Try it my way and then adjust the recipe to your own palate.
3 eggs
4 tablespoons melted butter
Instructions
Step one
Preheat a griddle to 375-degrees.  Alternatively, place a large skillet over medium-high heat.
Preheat an oven to 250-degrees to keep your pancakes warm while you cook subsequent batches.
Mix dry and wet ingredients separately.
Make a "well" in the center of the dry ingredients by pushing the dry ingredients to the edges of the bowl.  This enables you to incorporate the wet and dry ingredients thoroughly without overstirring- which can make the pancakes tough.
Add the wet ingredients to the dry.  You want to do this right before you are going to cook them.  The leavening agents react with the buttermilk to create lots of air bubbles and volume.  This makes the resulting pancakes so light and tender.  When the chemical reaction is spent- which happens quickly- the air bubbles begin to dissipate.
Using a rubber scraper or wooden spoon, incorporate the ingredients, scraping the edges and bottom of the bowl in a motion that suggests a "folding" technique.  Here's the deal:  you actually

want

a lumpy batter.  The lumps provide a sort of "architecture" that keeps your pancakes from spreading too much and getting too flat.  The perfect batter has lots of little lumps in it, but it is pretty thoroughly incorporated.  Don't worry that you're going to bite into lumps of uncooked flour.  The steam generated from the cooking process prevents that from happening to all but really big lumps.
Using a ladle, pour your pancakes out onto the griddle.  You may need to use the backside of the ladle to smoosh them down a bit.  Cook them until air bubbles form over the uncooked surface, checking for doneness before flipping.  Cook until done, poking the center gently to be certain the middle is done.  It should spring back, rather than remain depressed or feel squishy.  If the bottom is overcooking before the centers are cooked, reduce your heat for future batches.
Add pancakes in batches to an oven-safe plate that is warming in the oven.  When you've made all of your pancakes, cover them with a single sheet of aluminum foil followed by a clean dish towel.  The foil isn't enough to keep them warm long enough and if you just use a towel, your pancakes will taste like your fabric softener.  I fold my towel in half, lay it over the plate, and use the edges to carry and pass the hot plate.
Off Script…
Chocolate Banana Pancakes: Buy a solid piece of baking chocolate.  My favorite is Callebaut bittersweet.  I get it at Whole Foods.  Using the edge of a chef's knife, shave little bits of chocolate off the chunk.  You want about 2 ounces of chocolate, or about 1/3- 1/2 cup.  Cut a ripe, but not overripe, banana lengthwise into quarters, then cut the quarters into little ¼-inch chunks.  Stir in the chocolate and bananas.
Why not use chocolate chips?  You could, but I love the quality and intensity of a really high-quality chocolate.  That also means that I can use less chocolate, which means less sugar and fat.  The shaved chocolate really disburses itself throughout the batter, which leaves me with chocolate in every bite.
Blueberry Pancakes: Mix in 1- 1 ½ cups frozen or fresh blueberries.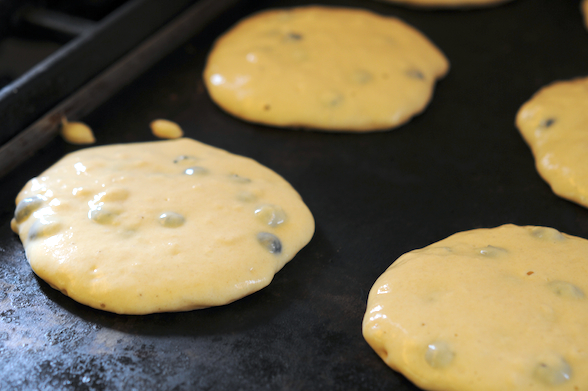 Fruit sauce: Boost the nutrition and beauty of plain pancakes with a fruit sauce.  I usually use frozen fruit because there's no disadvantage to it in this application.  Put some fruit in a sauce pan with just enough water to cover the pan bottom (Maybe 2 tablespoons) to prevent scorching.  Cover the pan and cook it over medium heat until it is thoroughly heated through.  Puree it- for ease, use a stick or "immersion" blender.  Strain out seeds and skins if necessary using a fine mesh sieve or by running the sauce through the finest disk of a food mill.  Taste and add a bit of sugar, honey, agave nectar, or maple syrup to sweeten it as needed.
Berries, stone-fruits, cranberries and rhubarb are all great candidates for fruit sauces.  Sour cherries make a delicious sauce, but require a bit of thickening, as they don't have enough natural pectin to have any body- it's like pouring cherry juice on a pancake.  Treat the cherries like any other fruit, but take the added step of pouring off about 1/4 of the liquid, whisking it with 2 teaspoons or so of arrowroot or cornstarch and then reincorporating that with the rest of the sauce.
Powdered Sugar with Cinnamon: In the attempt to keep our sugar consumption low, I'll often serve pancakes with butter and then just sprinkle them with a bit of powdered sugar mixed with cinnamon.  It's lovely to look at and there's just enough sweetness to taste right with the pancakes.  We keep this around as a condiment for all kinds of foods- crepes, fresh fruit, etc.

Print This Post