/?php include(TEMPLATEPATH."/breadcrumb.php");?> /?php if(function_exists('wp_print')) { print_link(); } ?>
Blueberry Lemon Zucchini Muffins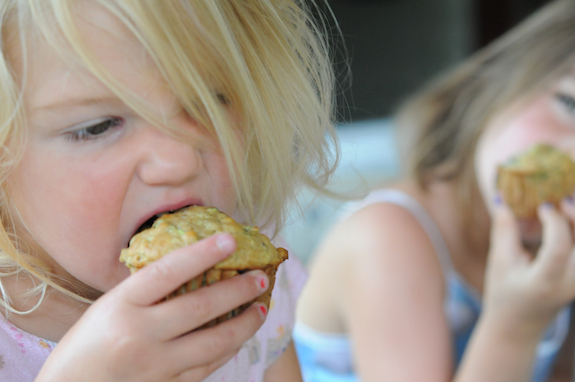 Don't think I'm going all Jessica Seinfeld on ya, but you've gotta love this opportunity to sneak a little extra veggies into your family's diet at breakfast. The sweet, warm, oozing blueberries burst with flavor in your mouth. The texture is heavenly- like a gauzy white shirt-dress on a breezy summer day. This is a healthy muffin that is light as air and yet is as filling as one of those leaden hockey-puck bran muffins.
Blueberries and zucchini are beautiful and bountiful right now. Take advantage.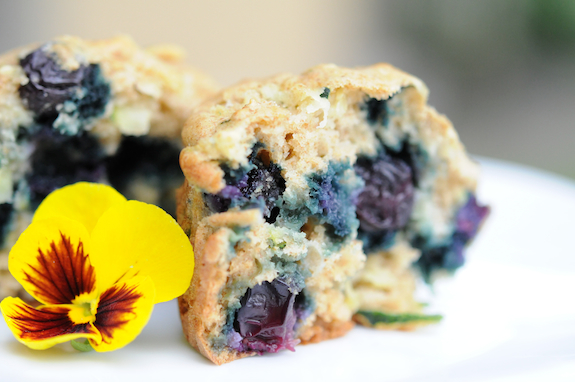 Ingredients
Dry Ingredients
2 ½ cups flour Of course, I do 50/50 white/whole wheat
1/3 cup oatmeal The oatmeal helps absorb the liquid from the zucchini and contributes to the tenderness of the muffin. I like quick cooking oats for this because they're smaller and distribute more evenly throughout the batter, but old-fashioned oats work just fine.
1/3 cup packed dark brown sugar
1 teaspoon salt
1 teaspoon baking soda
2 teaspoons baking powder
Liquid Ingredients
4 tablespoons butter, melted
½ cup buttermilk
2 large eggs
1 small lemon, zested fine Preferably, use a Microplane to get the zest very light and fine.
juice of 1/2 lemon
Stir-ins
2 cups loosely packed, coarsely grated zucchini (about 1 medium-large zucchini)
1 ½ cups blueberries
Yield: About 2 dozen standard-size muffins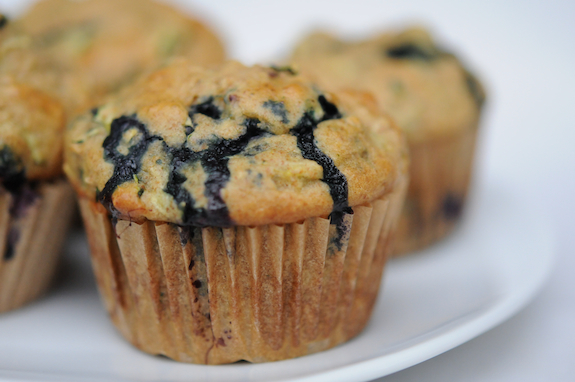 Instructions
1. Preheat the oven to 400-degrees.
2. Separately mix the wet and dry ingredients, then combine them in a large bowl. You are going to be a little shocked right now. There's not much batter and it is super-sticky and doughy. You'll also be thinkin' "There's no way I can get all that zucchini mixed into that little amount of batter."
3. Add the zucchini to the batter and stir with a wooden spoon or other stiff mixing utensil. Stir to combine for about 45 seconds. Now, how cool is that? The batter leaches the water from the zucchini add the final amount of liquid that completes the batter.
4. Stir in the blueberries carefully so as not to crush them.
5. Scoop the batter generously into muffin cups. This batter has enough structure to support a nice muffin top, so feel free to heap it up into the cup.
6. Bake for 20-25 minutes. Test with a toothpick to confirm doneness. Insert a toothpick into the center of a muffin. If it is clean when it is withdrawn, the muffins are done.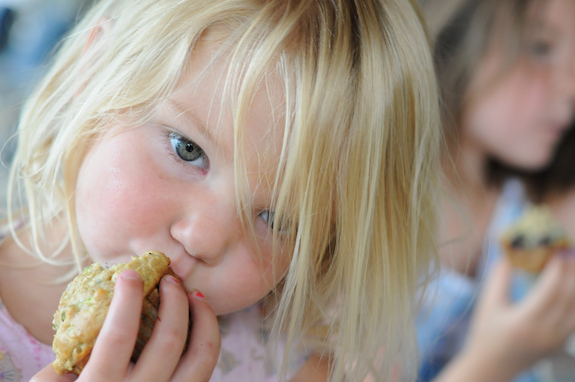 Print This Post