/?php include(TEMPLATEPATH."/breadcrumb.php");?> /?php if(function_exists('wp_print')) { print_link(); } ?>
Black-eyed Peas with Collard Greens and Ham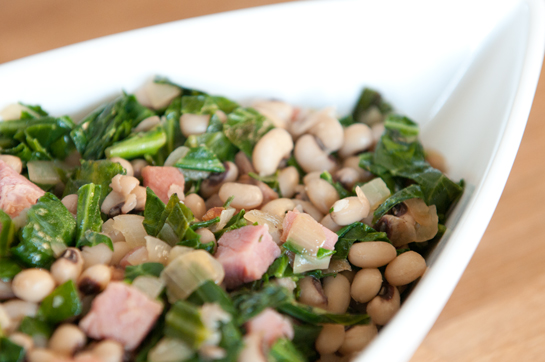 It happens to be fast, cheap and healthy, but that's not why we love this dish.
I have an impulsive aversion to any recipe that is advertised as being "easy," "cheap," or "healthy." Those are good things, but I often worry that the writer was more focused on easy or cheap than what I really care about- flavor. Back when I was learning to cook, the "quick and easy" staples of the supermarket checkout line magazines generally tasted "quick and easy." And the "healthy"recipes? Let's just say that applesauce will always be a dreadful substitute for fat.
This recipe is like that girl in high school who dressed in Salvation Army garb and looked fabulously chic. While she's cheap (make your own judgement about whether or not she was easy) you can't help but be fascinated by her.
Collard greens charm because they can cook completely in a sauté pan while maintaining their emerald color. Unlike most other hearty greens, they have virtually no detectable bitterness- making them an easier sell to kids. Black-eyed peas have a wonderful flavor without the mealiness that often puts off kids. They also have the good fortune of having a wildly popular band named after them- though your kids will be convinced that the legume was named after the band.
Ingredients
1 ½ cups dried black-eyed peas Use canned beans instead? I'd say no. Canned beans tend to be mushy and salty. This dish doesn't offer anywhere for bad textures or flavors to hide, so plan ahead just a little and use the dried beans.
1 medium large onion, chopped (about 1 cup)
1 large bunch of collard greens, trimmed of center rib and roughly chopped into pieces about 2" square (about 8 cups packed)
1 medium ham steak, chopped into ½" cubes, or 1-1 1/2 cups leftover ham
1 tablespoon Dijon mustard, or to taste
Instructions
Cook the Beans
1. Add an ample amount of water to the beans in a saucepan, bring just to a boil and turn the beans way down to low heat. No bubbles in the water, please. Simmer like that for about 1 ½ hours or until the beans are just tender. If you overcook them, they'll fall apart and be a pasty mess in the dish. If you try to speed up the cooking by using higher heat, the exterior of the beans will fall apart while the insides are hard as pebbles. You can speed up the overall cook time for the beans by soaking them for a few hours or overnight.  If its 5PM and you're staring at a bag of dried beans, cook your beans tonight and make the dish tomorrow.

2. Drain the beans and rinse them with cold water to stop the cooking. Set aside.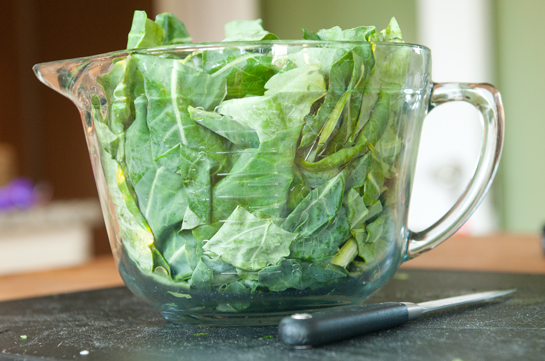 Cook the dish
1. In a large, deep skillet, sweat the onions over low heat. "Sweat" just means to put a bit of oil in the pan and let the onions cook without browning.

2. When the onions are soft and translucent (about 8 minutes), bring the heat up to medium high heat and add the collard greens. Drizzle them with a bit more olive oil and toss them with tongs so that they glisten. You may want to add the collards in manageable amounts. Heap up the pan, let them cook down a bit, toss and then add the remainder.

3. Cook the collards, tossing frequently, until they are tender but still bright green with a bit of "chew" to them.  Remove the contents of the pan to a large cutting board. Using a chef's knife, chop the collards into small pieces, going back and forth over the pile until they are of the right size- about the size of cilantro or parsley leaves. I hear you- why not chop them small to begin with? The problem is that if they are very small when you put them in the pan, it is harder to cook them evenly. Leaving them whole keeps them from having scorched or undercooked leaves.

4. Return the collards to the pan and add the ham and beans. Stir to integrate and warm through. Finish by stirring in the mustard.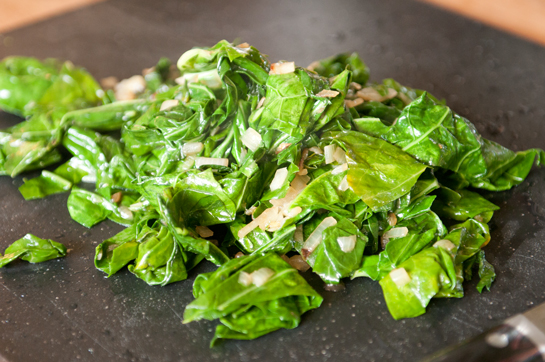 Off Script…
There's nothing sacred about the proportions in this recipe. Use more beans or less collards or more ham or- whatever.
Make this dish Italian by using cannellini beans, kale and pancetta.
Use fun heirloom beans that you find at the market and any kind of green that's in season.
Substitute the ham for a smidge of bacon or leave it out altogether and serve as a side dish with pork chops.
If you like this idea, check out these posts, too.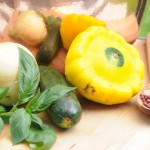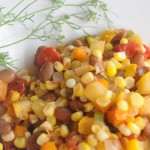 Print This Post