/?php include(TEMPLATEPATH."/breadcrumb.php");?> /?php if(function_exists('wp_print')) { print_link(); } ?>
Black Bean and Cheese Tamales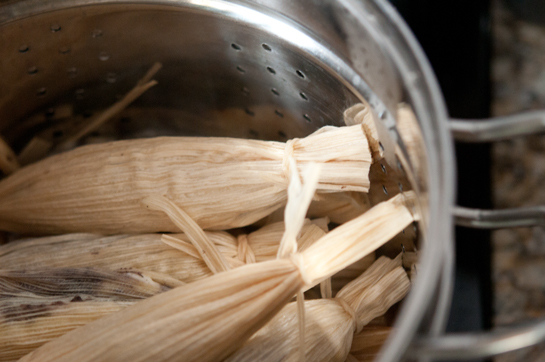 Adapted from The Salpicon Cookbook, by Priscilla Satkoff with Vincent Satkoff
I just made these for the first time three days ago. I'd never even thought of making tamales before because I'd heard that they are difficult to make. However, a group of students wanted to make them for Cinco de Mayo and they didn't care that I was teaching them how to make something I'd never made before. Go figure.
They were surprisingly easy. I also discovered that they are incredibly convenient. By the time I'd finished making them on Tuesday night, we'd already had dinner. So I tried one, declared it a success, and put them in the refrigerator. I've been putting these in the kids' lunches all week. Fortunately, they have access to a microwave at school.
The black bean filling is simple and accessible to virtually all palettes. I can't wait to play with more ingredients, however. I want them spicy and I want them with squash blossoms and cilantro and corn and…
Ingredients
For the masa
½ cup lard or non-hydrogenated vegetable shortening
1 ½ cups masa harina, preferably masa harina para tamales
½ cup room-temperature water
1 teaspoon baking powder
1 tablespoon fine salt
For the filling
1 cup dried black beans
2 poblano chiles, roasted, peeled and cut into ¼" strips
6 ounces Chihuahua cheese or Queso Oaxaqueño, cut into strips
12 dried corn husks
Instructions
Prepare the corn husks
1. Soak the corn husks in warm water for about 20 minutes to make them pliable.
Prepare the beans
1. Add an ample amount of water to the beans in a saucepan, bring just to a boil and turn the beans way down to low heat. Simmer like that for about 1 ½ hours or until the beans are just tender.
2. Drain the beans, reserving the cooking liquid.
3. Puree the beans in a blender, adding the reserved cooking liquid to give them a saucy consistency that will run off the end of a spoon.
4. Taste for and adjust seasoning as necessary. Set aside.
Prepare the masa
1. In the bowl of a stand mixer fitted with a mixing blade, beat the masa until creamy.
2. Add the remaining masa ingredients and beat until well-combined.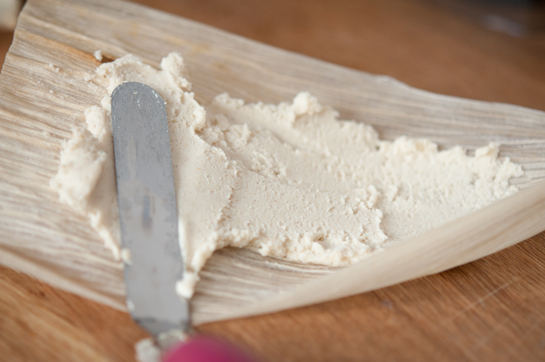 Assemble the tamales
1. Place water in the bottom of a pot fitted with a steamer basket. Bring to a boil, being sure the water isn't making contact with the bottom of the steamer basket.
2. Pull a corn husk from the water and pat dry on both sides.
3. Spread 3 tablespoons of masa in the center of each corn husk, leaving about 1" from either side and 1 ½" from the top and bottom.
4. Dollop 1 heaping tablespoon of bean puree on top of the masa. Add a strip of poblano and a strip of cheese.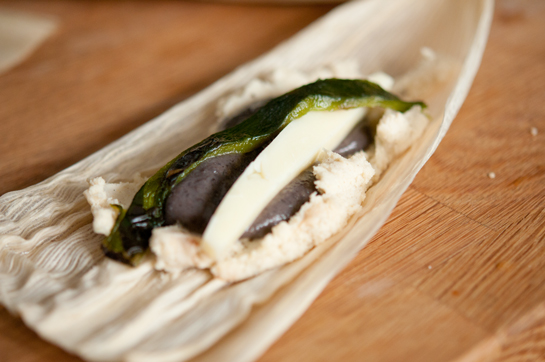 5. Wrapping option #1: Fold the bottom and top over the filling, then pull the sides over. Place seam-side down in the steamer.
6. Wrapping option #2: Take one of the corn husks from the soaking liquid. Pull strips from the husk by pulling them from top to bottom, about ¼" thick. Roll the tamale into a round and tie each end with a corn husk strip. Place in the steamer.
7. Steam, covered for about an hour, checking frequently to make sure the water hasn't boiled off. I keep my tea kettle filled with boiling water to avoid slowing down the cooking process when I have to add more water.
Off Script…
You can really add any kind of filling that you want to these. Whatever you decide to add, the ingredients should be pre-cooked and somewhat saucy.

Print This Post